For many decades RPBC used "Boscombe East" because:
Rosebery Park Baptist Church is in the electoral ward previously called 'Boscombe East', so there is that justification for it having had this address in recent history.
The Post Office at 836 Christchurch Road is called 'Boscombe East Post Office'. (We are at 812-814 Christchurch Road) – but its tag line is "Serving Pokesdown for over 50 years"!
The local newspaper, The Echo, reported recent road works which were in front of the church as "Christchurch Road, Boscombe East (towards Pokesdown end)"
It was the area's custom to shy away from using "Pokesdown".
It's possible some Christians were/are uncomfortable using the name "Pokesdown" because of its (unsubstantiated but popular) association with pixies/fairies/witches/goblins.
Image: Boscombe East Post Office Sign. They are at 836 Christchurch Road, just past the junction with Warwick Road.
Source Boscombe East Post Office Twitter.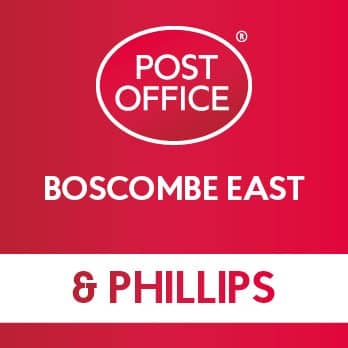 But we have recently changed back to "Pokesdown" because:
The electoral ward, since October 2018 is now called "Boscombe East AND Pokesdown".
Some people regard Boscombe East as the area past Pokesdown Station, down 'Pokesdown Hill', where the next set of shops are, eg. 'Boscombe East News Food and Wine Premier store' at 1115 Christchurch Road. – but, a few doors along at 1069 Christchurch Road is "Pokesdown Chippy"!
Rosebery Park Baptist Church is in-between two sign posts on Christchurch Road announcing you are in Pokesdown, one at the top of Somerset Road, and one on Pokesdown Green, next to the Bell Inn.
As per the blue history-of-the-church booklet, in the early 1930s it was suggested the church name be changed to "Pokesdown Baptist Church" (this was not supported by the church members, who preferred the name Rosebery Park, but it shows "Pokesdown" was the logical alternative).
The new "normal" for the area is "Proud to be Pokesdown", thanks to the work of the Pokesdown Community Forum.
Image: Front cover of RPBC's 'Good News' magazine for April 2021.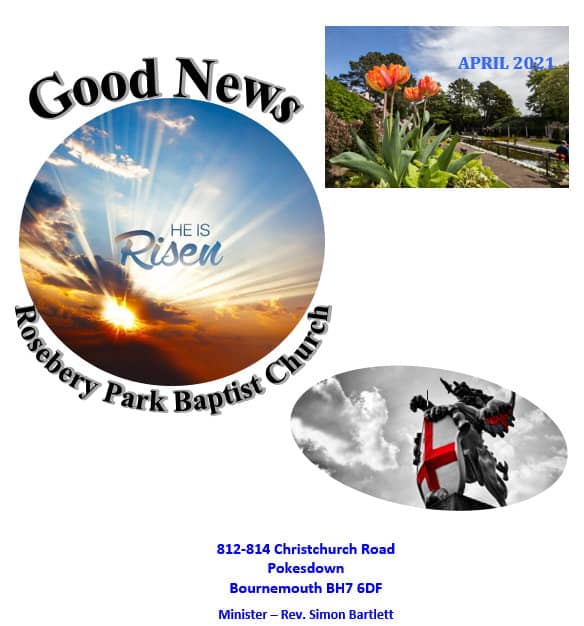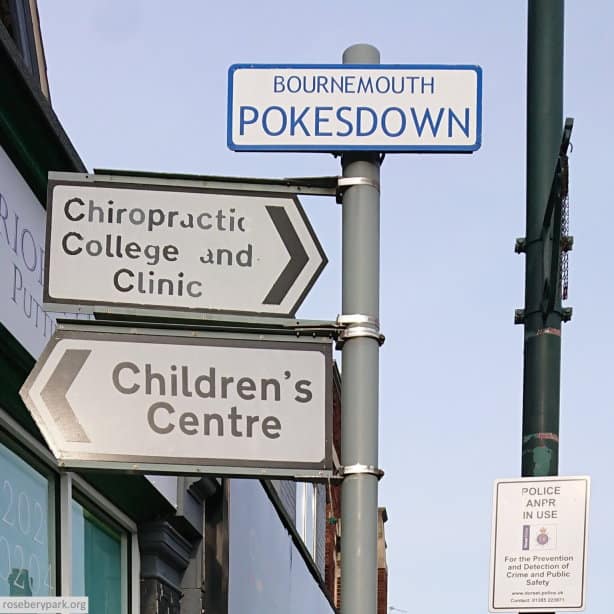 On the church's website -for the pragmatic reason of wanting the church to show up in search engine listings for all of the nearby area- we have chosen to describe the address as: "812-814 Christchurch Road, between Boscombe and Pokesdown, Bournemouth, BH7 6DF". "Between Boscombe and Pokesdown" is really an abbreviated form of "between the Cafe Boscanova end of the pedestrianised shopping area of Boscombe, and the Pokesdown Railway Station".
The copy and paste citation for this page:

The History of Rosebery Park Baptist Church and Pokesdown – Pokesdown: the name, Page 8. Author: Michelle Fogg. Date: May 2022. Url: https://roseberypark.org/history/pokesdown-the-name-8/
Sources of Information for The History of Rosebery Park and Pokesdown (opens in new tab)

Go To About Us
Go to Other Activities

Rosebery Park Baptist Church, 812-814 Christchurch Road, between Boscombe and Pokesdown, Bournemouth, BH7 6DF