Here is historical evidence of the name Rosebery Park Estate! from the 'Bournemouth Guardian', June 1889: an advert for the sale of building plots; and an article in the 'Christchurch Times' newspaper, dated 31st January 1891, discussing problems with the state of the roads.
A PDF of the newspaper articles and documents is available here. They are images, and not plain text, but they can at least be enlarged for easier viewing this way.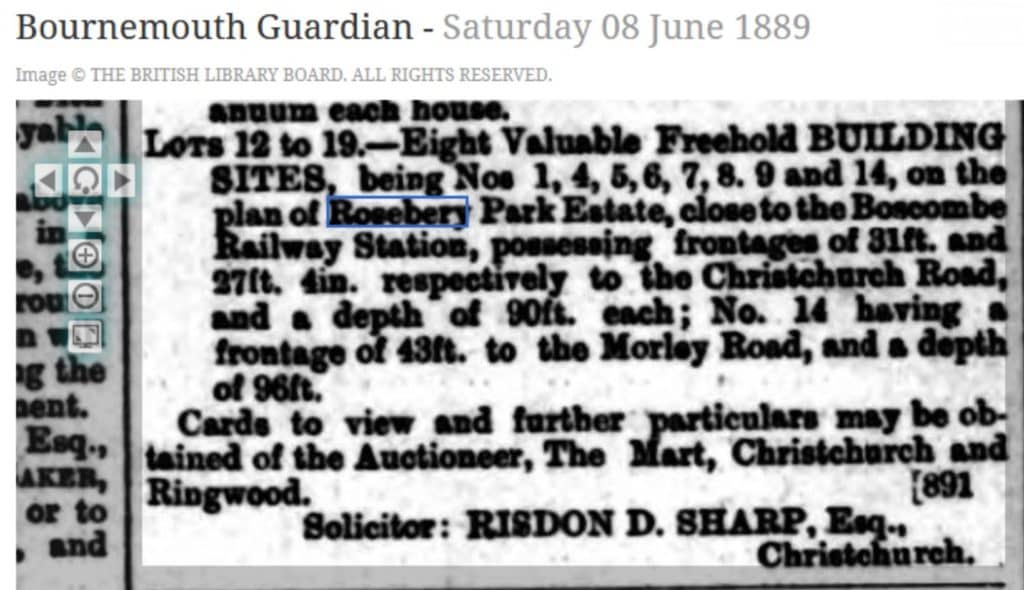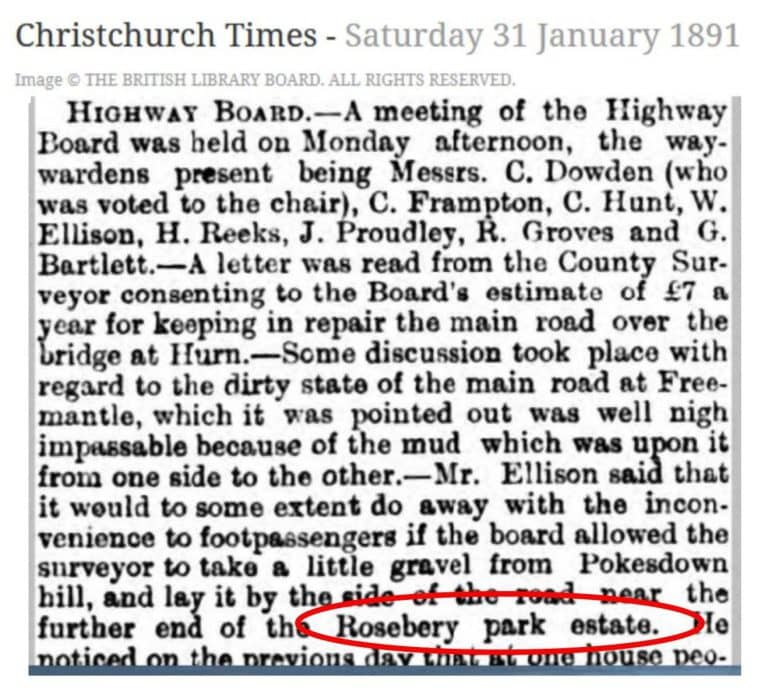 This amazing parchment document is the original conveyance paperwork for the purchase of Lot 103, on the Rosebery Park Estate, in May 1887, "Between John Green Chemist Thomas Gosling Builder and Henry West Jenkins Builder all of Christchurch in the County of Southampton…" This same freehold was bought by William Bolton -famous as Pokesdown's grocer, Post Office, and Alderman- in 1903. (It looks like the chapel would have been built on lot 47). Here is a pdf version of these documents, including more pages.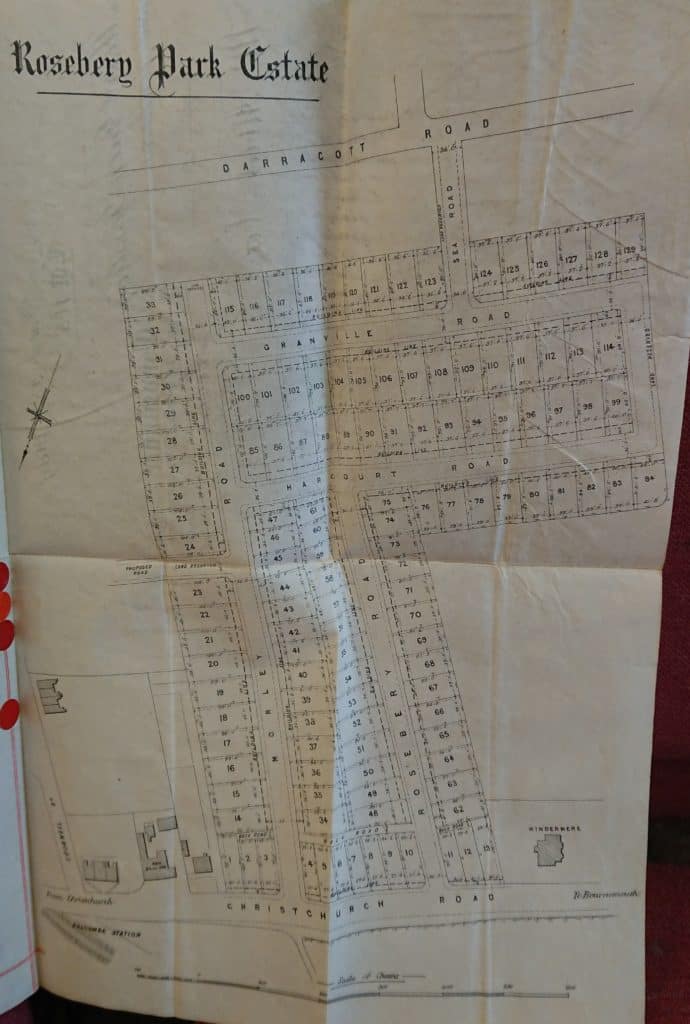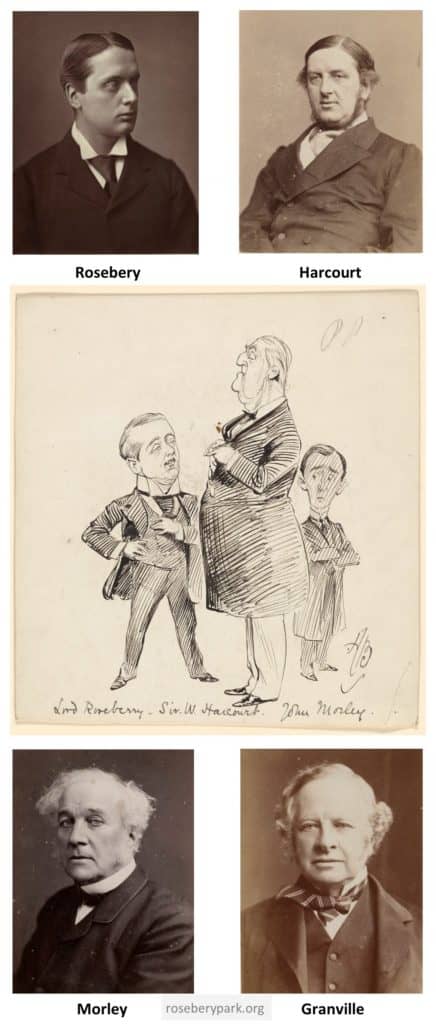 "Rosebery Park" is a composite of the name of the famous Victorian aristocrat and Liberal politician, Lord Rosebery, and, as Young says, misusing the word "Park" to "glorify [an] unremarkable piece[s] of land being sold as [a] building estate[s]"!24
It must have been a common practise to name building 'estates' and roads after "national prominent people" even when they didn't have any particular connection to the local area – there are over fifty such road names in Bournemouth.25 David Butterfield writes in his article, 'British Street Names', "Nineteenth-century urbanisation increasingly commemorated aristocratic landowners, parliamentarians worth their salt, and battles in which locals fell."26
Lord Rosebery was the 5th Earl of Rosebery, Archibald Primrose, and was briefly Prime Minister in 1894/95. He is famous for marrying the richest woman in Britain -Hannah de Rothschild- organising Gladstone's winning election campaign, being in the company of royalty, and owning race horses.27
Morley, Harcourt and Granville Roads were also named after Rosebery's fellow politicians. Samuel Morley was an MP, industrialist, philanthropist and abolitionist (campaigned to end slavery)28 – a busy man! Sir William Harcourt's roles included Solicitor General in Gladstone's first ministry, and later, Leader of the House of Commons. The second Earl Granville, George Leveson-Gower, was Under Secretary for Foreign Affairs, then Foreign Secretary, then leader of the Liberals in the House of Lords.29
A Bournemouth Daily Echo article from 1900 states that "Eminent political personages have been freely drawn upon [by the road-namers]"! "For here [in Pokesdown] we find the names of such modern political lights as Rosebery, Morley, Harcourt… among others".30
Cartoon courtesy of The Morgan Library & Museum.
Photos courtesy of National Portrait Gallery. 30a
You can watch a 3 minute video on the origins of the name "Rosebery Park" on our History: Summary page 🙂
In his memoir, 'Pokesdown and Neighbourhood, 1895 to 1910', E.G. Wills describes the Rosebery Park Estate and adjoining roads:31
"Then came a cottage where Mr. Mitchell, the local foreman of the Bournemouth, Boscombe and Westbourne Omnibus Company lived and a wide driveway down to the stables and yard for the buses and horses. This is where later a tram shed was built and the stables and buildings were taken over by the Bournemouth Corporation for their Pokesdown depot, after their extension of the Borough had taken place.
Between the house where the foreman lived and Morley Road, there was Clarks the bakers (later Hannams), an ironmongers shop and a paper shop and tobacconists, and on the corner Summerbee's fruit and vegetable shop.
On the other corner up to Rosebery Road were several shops including Samson the cycle shop, Mitchelmores the shoe shop and another paper shop and tobacconists with another hoarding on the corner. On the other corner of Rosebery Road was Larkins the coal merchant, dealing in hay, corn and firewood as well. Then up to Queensland Road was Dr. Dickie's garden and coach house and stable, looked after by Bill Kent, followed on the corner by Dr. Dickie's surgery and his private house.
Parkwood Road, Harvey Road, Pauncefort Road, Granville Road, Queensland Road, Rosebery Road and Harcourt Road were recognised as the well-to-do part of Pokesdown, the remainder being the working classes homes and shops. Southbourne Road was also a high class neighbourhood.
On the other side of Cromwell Road from Christchurch Road was a field to the back of the houses in Morley Road; this field was where cattle grazed while waiting to be slaughtered at the back of the next building which was another Wrenns the butcher shop."
There were many more shops between Queen's Road (now Queensland Road) and Parkwood Road, and along all of Cromwell Road (now Seabourne Road): a cutlery shop, a clothier, stationer, jewellers, hairdresser, sweetshop, drapers, greengrocer, chemist, off licence, shoe mender, Post Office, joinery works, coal merchants, bakers, dairy, fishmonger, barber, paint and oil shop – and more than one of many of them.
From the corner house at the junction of Parkwood Road with Southbourne Road, right along to the corner of Stourwood Avenue was a large field where residents of Pokesdown could tether their horses and goats when not being used, and a forest of pine and beech trees. All the land east from Irving Road to Tuckton Road was farmland.32