1952 to 1960
Here is a timeline of some local and national events, to help picture what was happening when at Rosebery Park Baptist Church:78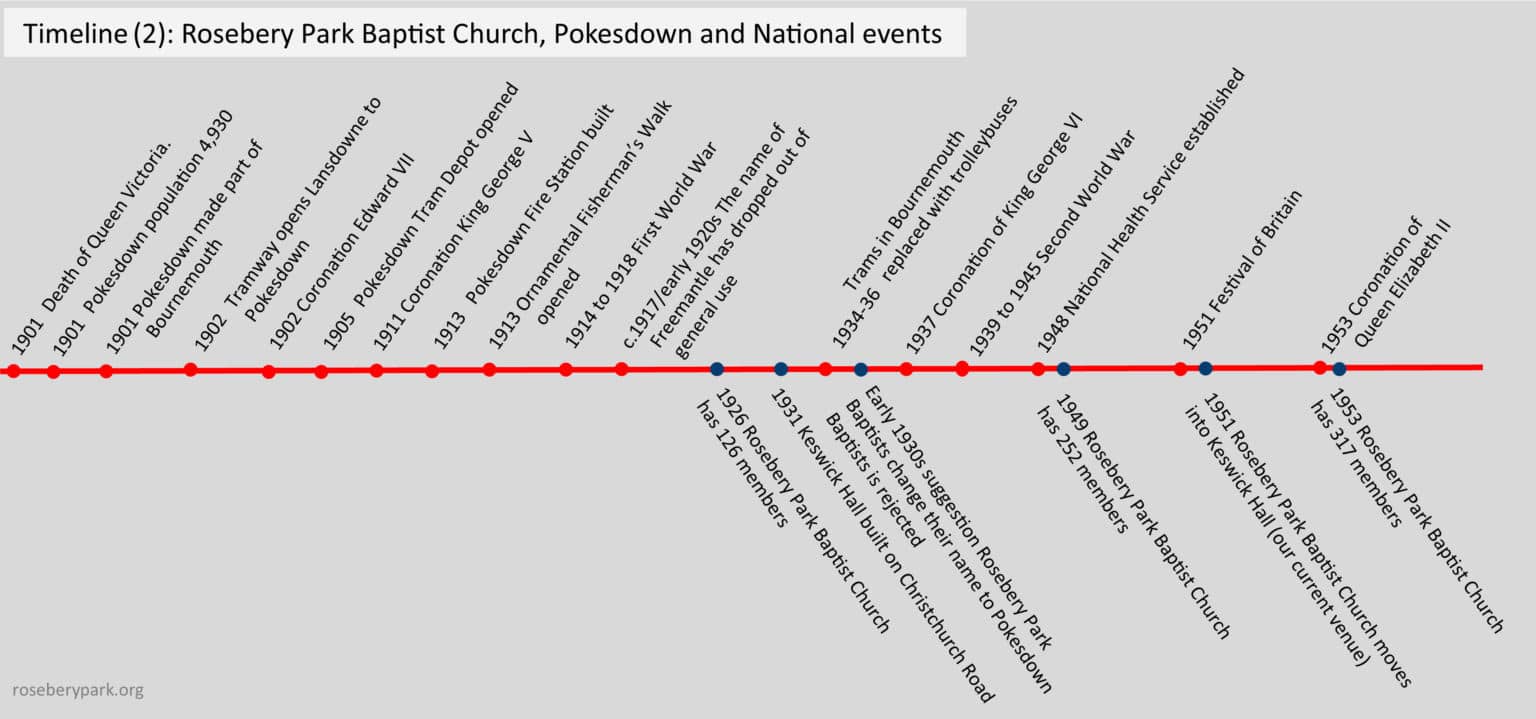 In March 1952 the church undertook an evangelistic campaign, where 3,000 homes were visited three times in the preceding weeks with invitations to a week's public meetings. The overall theme was 'The Case for Christianity' and it was part of a broader Baptist Union "Baptist Advance" programme.79
As Reginald E. White explains in the magazine "The Baptist Quarterly":80
ADVANCE AND REUNION – The turn of the half century has confronted Baptists with the painful dilemma of two apparently contradictory challenges. One comes to us from denominational headquarters; the call to Baptist Advance. It is essentially domestic, internal, immediate; a challenge to throw off the last excuses and confusions of wartime and address ourselves to our still unfinished task, to face up to developing denominational responsibilities, and rally to the Baptist flag.
As Rev E. A. Payne [General Secretary, Baptist Union of Great Britain, 1951-1967] has finely said: "It is clearer to Christian people today than at any previous period . . . that the followers of Jesus Christ should be in the closest possible fellowship with each other. A world divided by racial, national and economic antagonisms looks wistfully to Christians to show it the path to unity and to give it the power to walk along that path. But already apart from this, Christians have felt resting upon them the eyes of One who prayed for His disciples that they might be one. However ancient and deep-seated the divisions, they cannot be accepted as final by one who ponders these words."
Rev. Ernest Payne, General Secretary Baptist Union of Great Britain 1951-1967.
Source of oil painting: Art UK.org See note 80a Sources of Information
Other outreach events included:
A series of monthly Sunday evening guest services each winter;
The post-war years were the peak for seaside holidays. In the early 1950s almost 70% of domestic holidays were taken by the sea.81
Church volunteers (including Rev Sharpe and his wife, Gwen) 'meeting and greeting' holidaymakers as they arrived at the train station and coach stop, handing out leaflets with suggestions for exploring the area and "with particular reference to where they might worship on Sunday";
Broadcasting community hymn singing from the church for twenty minutes before evening services in the summer months.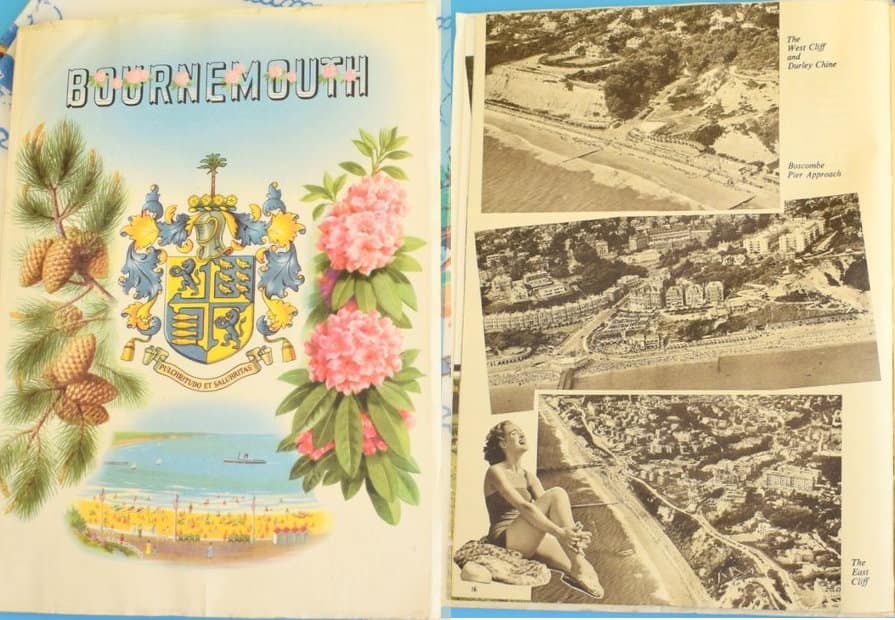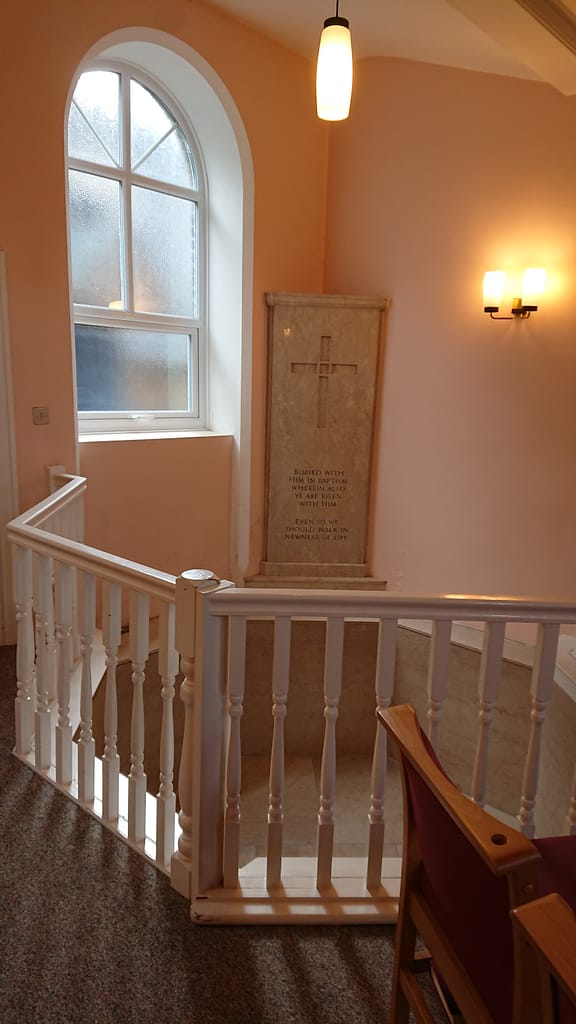 Meanwhile, back in the church building, the fantastic baptistery we have today was decided on in 1952, and installed and ready for use for the first time on 7th September 1953. The then Church Secretary, Walter Povey, was an artist with a firm of stonemasons, and he cut this lettering himself:82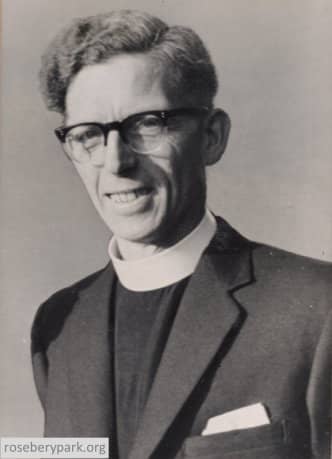 In October 1956, Rev. Cyril Smith came to preach, and a month later was invited to become the new RPBC Minister. He started his ministry here on 16th February 1957. At this time there were 332 members.
Two of the outreach activities were renting twenty five large poster sites in Pokesdown and Boscombe for three months at a cost of £20. And a house-to-house visitation programme conducted jointly with Boscombe Baptist Church and Boscombe Congregational Church.
In April 1960, after less than three years in the role, Cyril Smith announced he would be resigning at the end of August to take up a job at Bournemouth School.83
Rev. Cyril Smith, Minister at RPBC 1957 to 1960.Photo property of RPBC.
The copy and paste citation for this page:

The History of Rosebery Park Baptist Church and Pokesdown, Page 12. Author: Michelle Fogg. Date: May 2022. Url: https://roseberypark.org/history/rosebery-park-and-pokesdown-12/
Go To About Us
Go to Other Activities

Rosebery Park Baptist Church, 812-814 Christchurch Road, between Boscombe and Pokesdown, Bournemouth, BH7 6DF