Earliest known written records with the name "Pokesdown":
Year: 1660. Evidence: Henry Mantle of Pokesdown elected a churchwarden of Christchurch Priory.
Year: 1662-63. Evidence: churchwarden accounts record the receipt of one shilling from Henry Mantle of Pokesdown in payment "for a place for his wife where his mother did sit".125
Year: 1734. Evidence: Christchurch Poor Rate Book, includes the line "The Lady's Mews for Bugby's at Pokesdown".126
Year: 1800. Evidence: the will of Mary Eleanor Bowes, Countess of Strathmore and Kinghorne, Stourfield House – she left an annuity for the widow Lockyer of Pokesdown Farm.127
1870 map of Pokesdown showing earliest recorded settlements of Pokesdown Farm (date unknown, but pre-dates Stourfield House) and Stourfield House (est. c.1766). See Sources note 128.
Where did Pokesdown get its name from?
There is no definitive answer about the origins of the name "Pokesdown", but the different theories are:
The fact that the "pig theory" is only in the newspapers and isn't in any of the history books makes me think, either (a) it's a theory made up by residents with local knowledge, but rejected by the academics, who are carefully analysing the etymology (the study of the origin and history of words); or (b) the academics were studying the name "Pokesdown" fifty-years-plus after the locals who could remember pig keeping at Pokesdown had passed, but years before the British Newspaper Archive was online with a searchable database of newspapers reporting on Bournemouth life, and therefore missed this titbit.
When it comes to the favourite theory, Your Irish Culture explains:133
The meaning of Pooka, pronounced poo-ka, is from the old Irish word 'púca', which means 'goblin'. There are many variations of the spelling Pooka including Púca, Plica, Phuca, Pwwka, Puka, and Pookha all of which are totally acceptable. It is possible that the origin of the word Pooka may come from the Scandinavian word, Pook or Puke meaning 'nature spirit'… A Pooka is a shapeshifter and can take any form it chooses. Usually, it is seen in the form of a horse, dog, rabbit, goat, goblin, or even an old man.
The Pooka has been imagined in cinema as the large rabbit-type creature, called Harvey, in the 1950 James Stewart film, and a far more disturbing rabbit-type creature in the 2001 Jake Gyllenhaal film, Donnie Darko!
But, going by the newspaper articles which discuss the name "Pokesdown", where there are references to folklore or mythological creatures, it's not giant, scary, malevolent rabbits (Pookas) that people are imagining, but rather, "Puck" and his fairies!
Tracing the etymology or folklore wandering path(s) that led from "pooka" to "puck", the Encyclopedia Britannica says of "Puck":
Puck, in medieval English folklore, a malicious fairy or demon. In Old and Middle English the word meant simply "demon." In Elizabethan lore he was a mischievous, brownielike fairy also called Robin Goodfellow, or Hobgoblin. As one of the leading characters in William Shakespeare's Midsummer Night's Dream, Puck boasts of his pranks of changing shapes, misleading travelers at night, spoiling milk, frightening young girls, and tripping venerable old dames. The Irish pooka, or púca, and the Welsh pwcca are similar household spirits.134
In 1906 Rudyard Kipling published a book called "Puck of Pook's Hill"!135 I wonder if that, in part, helped cement the connection in people's minds between "Pokesdown" and pixies/fairies?! A Bournemouth Guardian article from 1906 mentions this book, locals bumpy relationship with the name "Pokesdown", and a theory that the name was something to do with "pigs":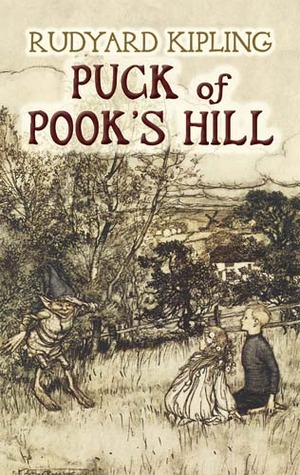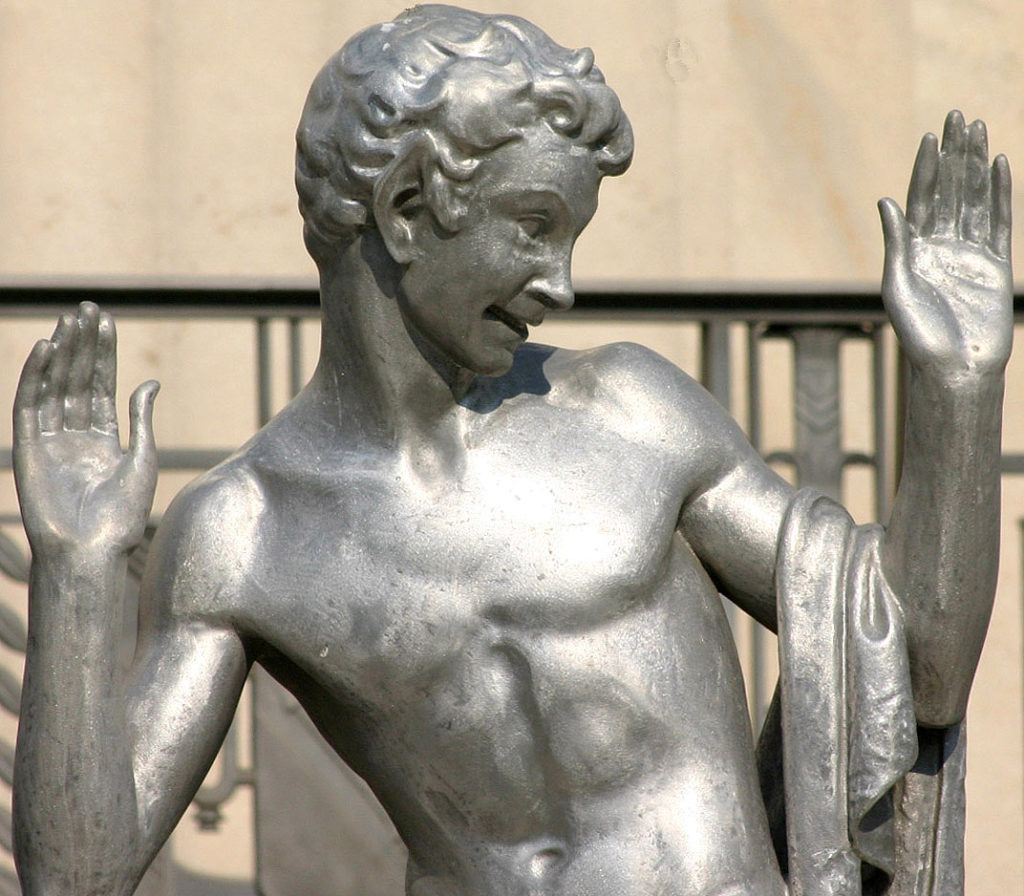 David Young concludes:
"Pokesdown" is a name of doubtful origin… Examples of earlier uses or forms of "Pokesdown" would help toward a more definite pronouncement but in the meanwhile the name should be treasured as one of the few within the borough boundary which long ante-date enclosure.136
Did you know there's a 'Pokesdown Song', from 1929-39, by Cumberland Clark?!
Pokesdown, on the Christchurch Road, has grown a lot of late, With the populace increasing at a very rapid rate. It's a suburb now of Bournemouth, and a pleasant neighbourhood; It is laid out very nicely, and the architecture's good. It once was known as "Puck's Down," in the happy long ago, Suggesting scenes of fairyland, where sweet romances grow; But of gorgeous wooded scenery poor Pokesdown is bereft, And I'm very much afraid there can't be many fairies left.
Yet I call to mind the Pokesdown Wood; in memory I see its grace and charm, which some while back brought happiness to me. I have lingered in its shadows, mid a wealth of trees and flowers, And communing there with Nature, I have passed some happy hours. There were banks of moss and lichen, every kind of luscious growth; There were violets and anemones, a plenitude of both; And the sunshine glinting through the trees and brightening their green, Made a picture for the gods, a splendid transformation scene.
Where the wood was once a glory, there are houses now and streets; And there's nothing much that's sylvan in the scenery one meets. In my leisure moments often, since the site was built upon, I have wondered, rather sadly, where the fairies have all gone. Does it bring the fairies sorrow? Does it do them any good, When the builder's in possession, and they're exiled from their wood? Do they whisper farewells to us when at last they have to go? I have wondered, but I don't suppose that I shall ever know.137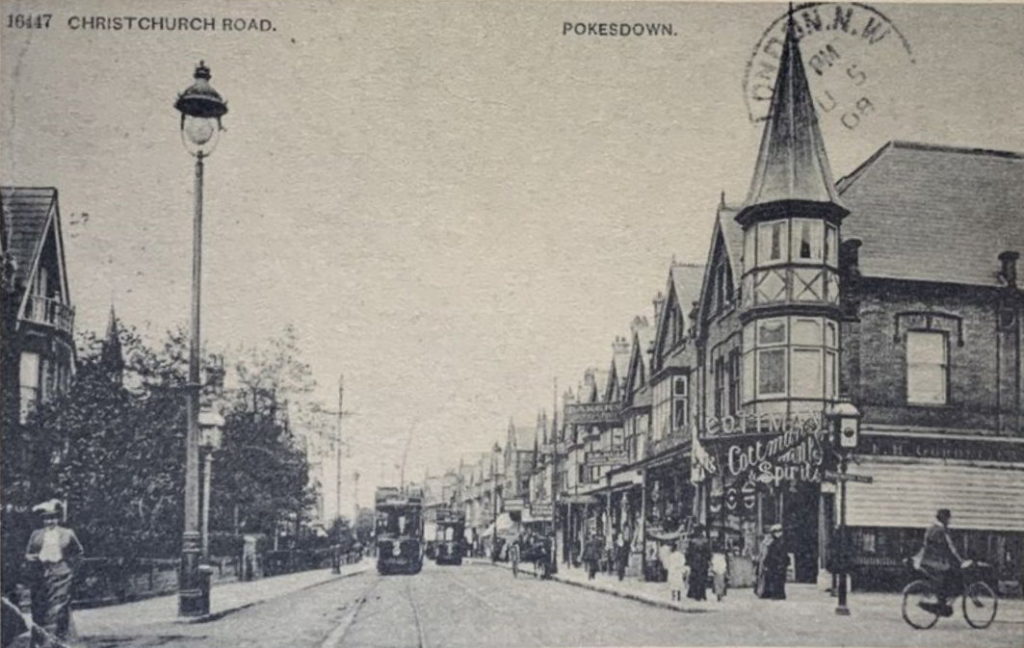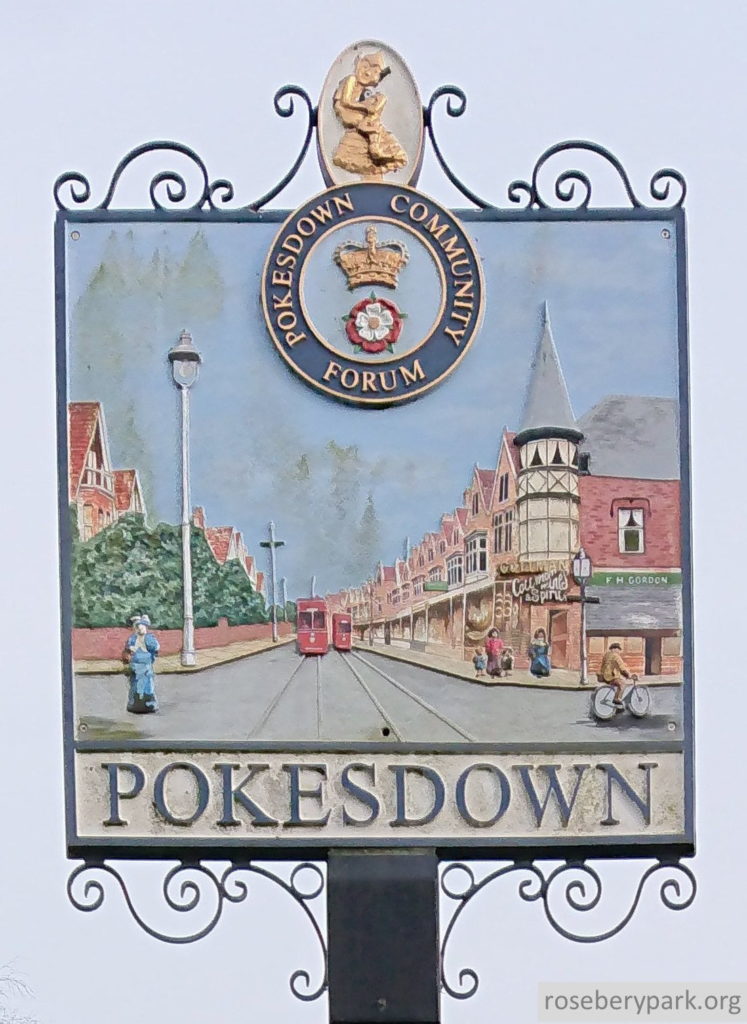 What's wrong with the name "Pokesdown"?
"Some inhabitants have begotten a fancy that their locality suffers through a name they have got to believe is deficient in euphony and attractiveness; others declare the place is without a 'down', and are gulled by the far-fetched association of 'pokes' with 'pigs'; others continue to love the old name…"
~ Christchurch Times, 29 August 1896137a
A debate about the purported lowly reputation of Pokesdown, and/or the unattractiveness of the name "Pokesdown", has been going on for the past one hundred and thirty years! This has led some locals, businesses and estate agents to claim their properties are in Southbourne, West Southbourne, Boscombe East, or some other district name instead -because they feel that sounds better- and a repeated return to discussions about whether the name, of the area and/or the Station, should be changed altogether.

The "Pine-" based names made sense at the time because "a considerable area of Pokesdown had been planted with pine trees early in the 19th century, including much of the land along the overcliff".137b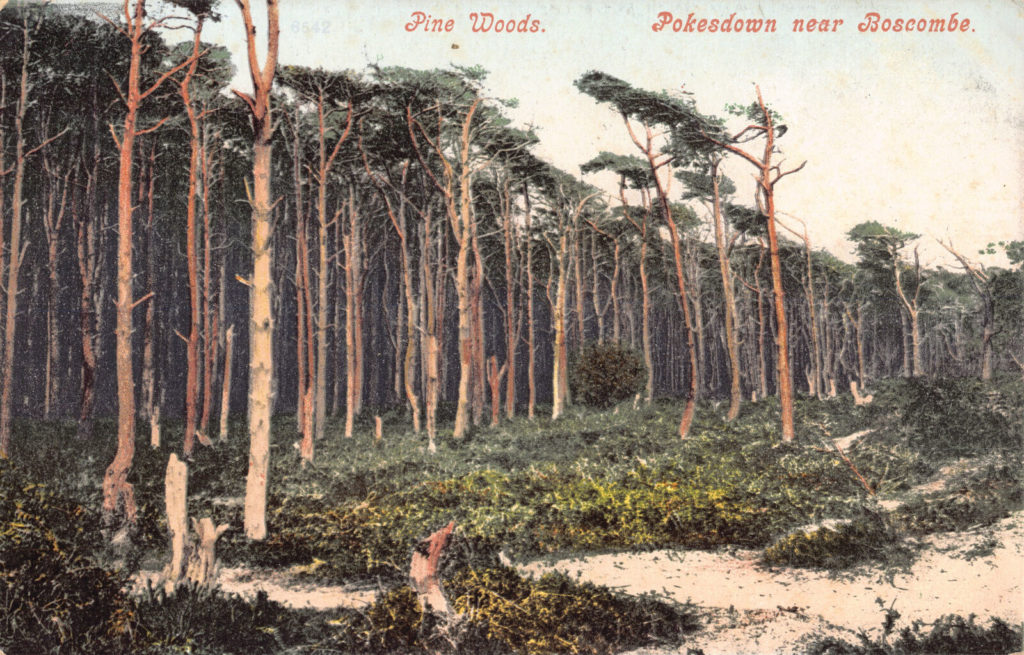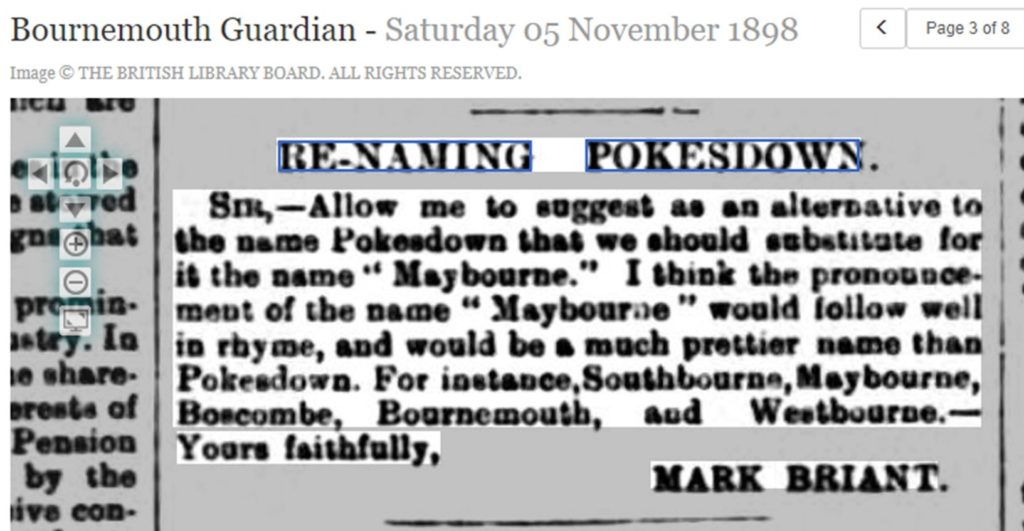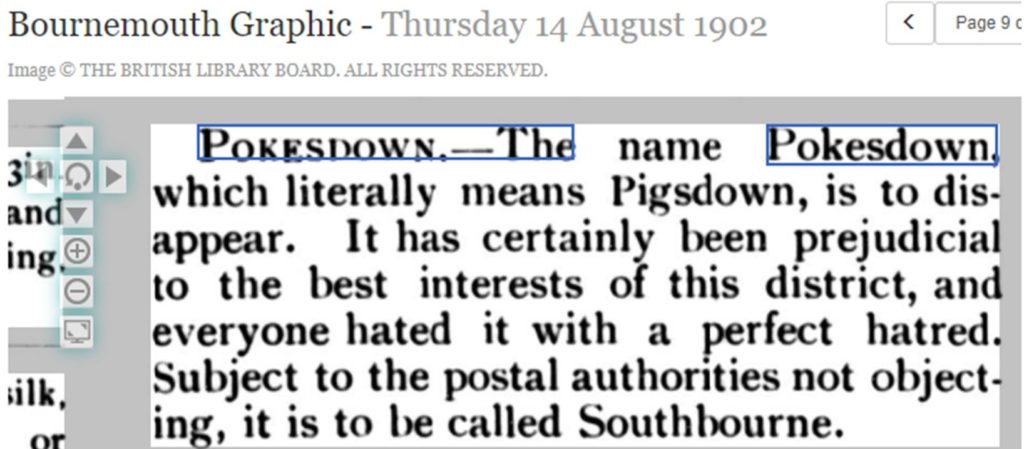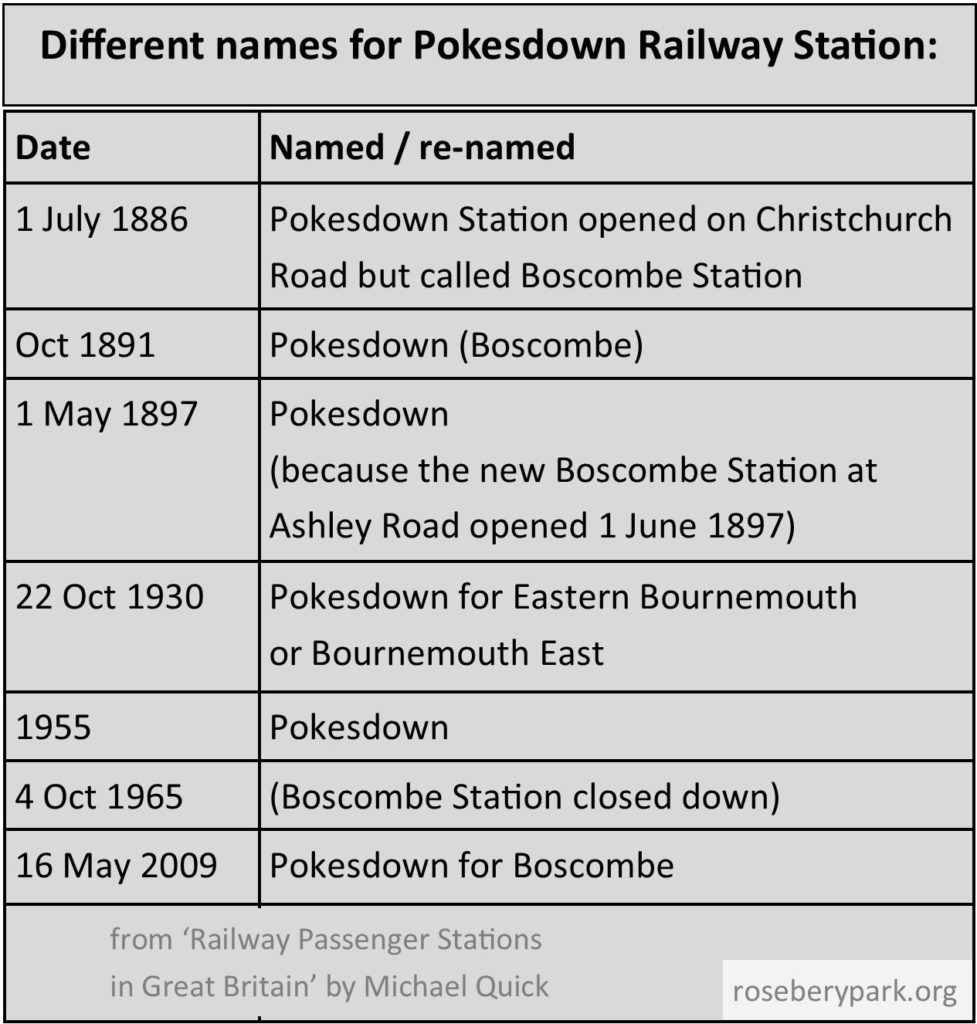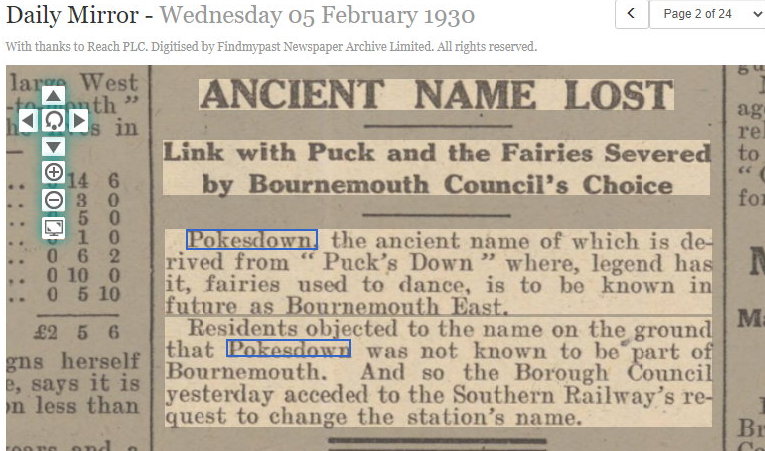 Tony Crawley's 1963 article on Pokesdown starts by saying:
"Pokesdown conjures up many pictures in people's minds. It's Little Pokesdown to many – unfair really, as it's a widespread, bustling area of industry and social life. It's the place where the trains don't stop – to those who are glad they don't. And, let's be honest, to the majority, it's the subject of ridicule in many a joke. Example: Q: Where are you spending your holiday? A: Pokesdown by the sea. And so on. It goes without saying, these ideas are wrong."139
I have seen no written evidence for this, but anecdotally it is also suggested that some Christians dislike the name "Pokesdown" because of its unsubstantiated but popular association with pixies/fairies/witches/
goblins! Christians don't like anything supernatural that is not-of-God, even if it's a made-up entity, and even if to other people pixies and fairies sound like mischievous, but harmless, fun. Witches and goblins are even more disturbing. The Merriam-Webster dictionary defines a "goblin" as "an ugly or grotesque sprite that is usually mischievous and sometimes evil and malicious".140 You can see why a Christian might be reluctant to name their church or area the church is in after a name which some translate as "Goblin's Hill"!
There is some of evidence of local religiously-motivated strong views: we know that in Boscombe, in 1896, a local person added an architectural "grotesque" to his roof top to stare in protest at the theatre opposite in disapproval of it daring to open on Sundays.141And there was opposition to trams running on Sundays too.142
There is written evidence of late-Elizabethan and seventeenth-century English Protestants equating fairies with "falsehood, Catholicism, and the invisible wiles of the Devil".143 But then English theatre historian, Michael Booth, states "The acceptance and rapid growth of fairyland as a fit subject matter for literature, painting, and the stage from the 1820s to the 1840s and its survival until at least the First World War is one of the most remarkable phenomena of 19th-century culture."144
If this is an issue for some Christians, hopefully they can take comfort from the fact that, even if some people choose to associate the name with supernatural folklore, there is no conclusive proof that the origins of the name "Pokesdown" stem from pixies/fairies/witches/goblins. It's just as likely to have come from someone's surname, or the local dialect for "haycock", or stem from "peak's down" where "peak" means "high point" in the downs, or possibly even from when pigs used to be kept on the downs.
"…there is no evidence that [Puck] visited the top of Pokesdown Hill…" ~ Bournemouth Guardian, Saturday 20 October 1906.144a
Evidence of properties based in Pokesdown, where another district is given as the address! –
The new Astoria Cinema is CLEARLY in POKESDOWN! The description of the address fits within all the different Pokesdown boundaries venn diagram (see page Pokesdown: its boundaries). But is referred to as being in Boscombe or "Bournemouth East".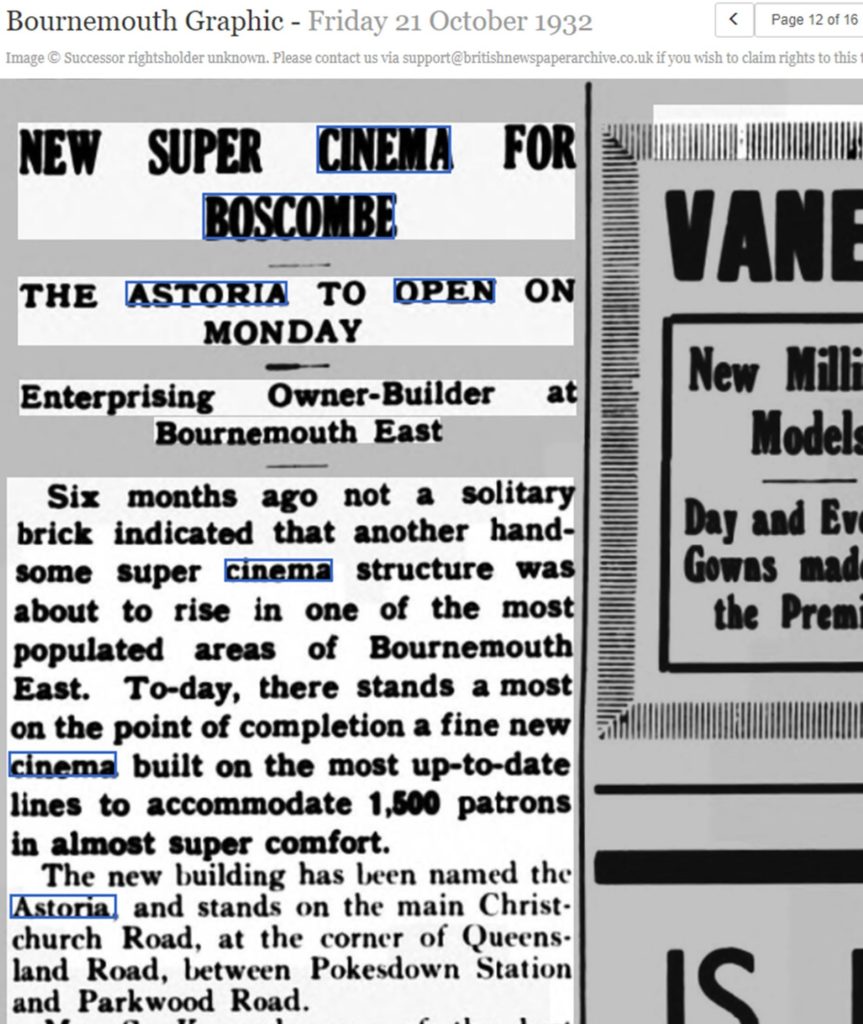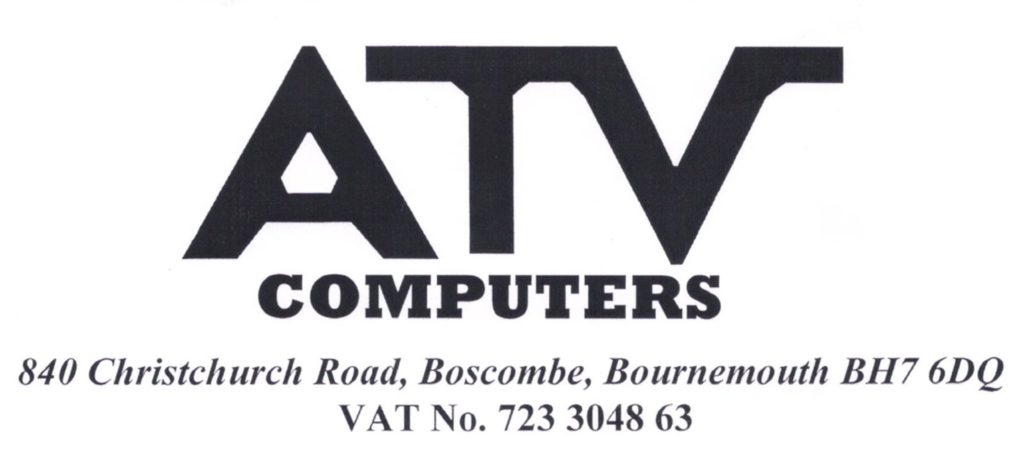 To round-up, suggested alternative names for Pokesdown include: Maybourne; Brooksdown; Richmond-on-Sea; Bournemouth East; Pinecliff; Pinehurst-on-Sea; Boscombe Park; Stourcliff; Avonhurst; Havenbourne; Portman Park; Boscombe East; West Southbourne; Boscombe.145
The "Pine-" based names made sense at the time because "a considerable area of Pokesdown had been planted with pine trees early in the 19th century, including much of the land along the overcliff".
In 2012, Pokesdown South Residents Association won a £22,000 Lottery grant to purchase a 14ft-high welcome sign featuring a picture of village life from around 1900, a plaque showing the history of the area, two new benches, two solar lamps, four oaks, and more shrubs. Pam Ruthvan from the Association explained to the Echo newspaper: "we want to give [Pokesdown] back the identity it's lost over the years."146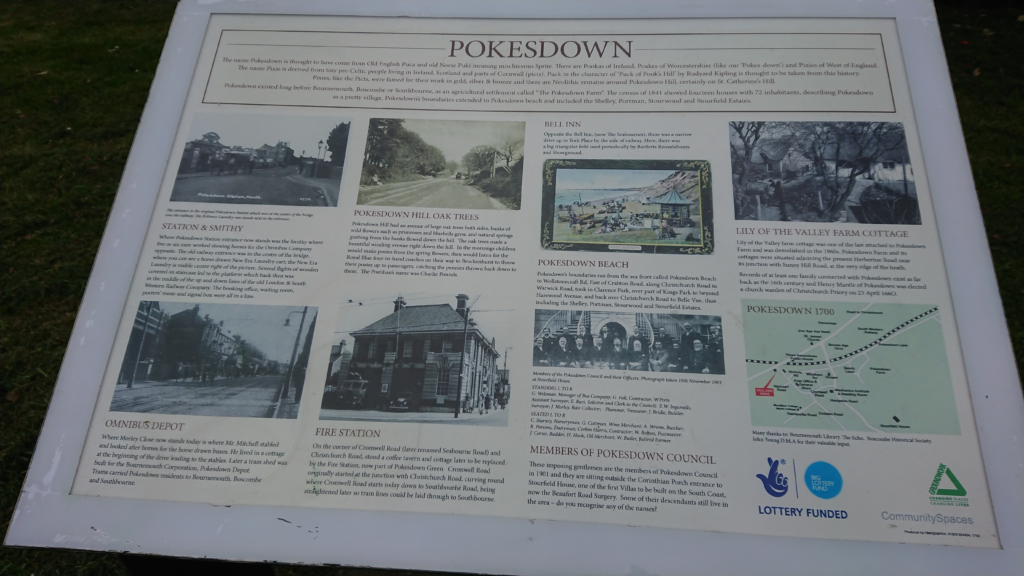 What name is used for the district address of Rosebery Park Baptist Church?
For many decades RPBC used "Boscombe East" because: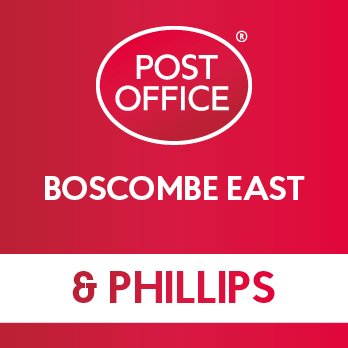 Rosebery Park Baptist Church is in the electoral ward previously called 'Boscombe East', so there is that justification for it having had this address in recent history.
The Post Office at 836 Christchurch Road is called 'Boscombe East Post Office'. (We are at 812-814 Christchurch Road) – but its tag line is "Serving Pokesdown for over 50 years"!
The local newspaper, The Echo, reported recent road works which were in front of the church as "Christchurch Road, Boscombe East (towards Pokesdown end)"
It was the area's custom to shy away from using "Pokesdown".
It's possible some Christians were/are uncomfortable using the name "Pokesdown" because of its (unsubstantiated but popular) association with pixies/fairies/witches/goblins.
Image: Boscombe East Post Office Sign. They are at 836 Christchurch Road, just past the junction with Warwick Road.
Source Boscombe East Post Office Twitter.
But we have recently changed back to "Pokesdown" because: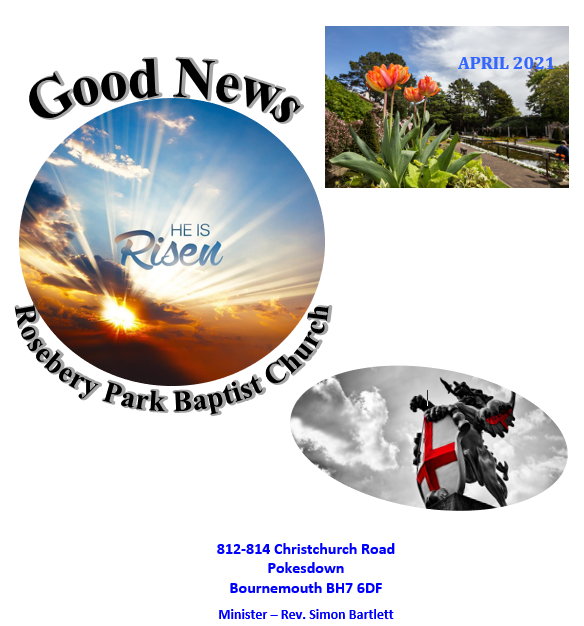 The electoral ward, since October 2018 is now called "Boscombe East AND Pokesdown".
Some people regard Boscombe East as the area past Pokesdown Station, down 'Pokesdown Hill', where the next set of shops are, eg. 'Boscombe East News Food and Wine Premier store' at 1115 Christchurch Road. – but, a few doors along at 1069 Christchurch Road is "Pokesdown Chippy"!
Rosebery Park Baptist Church is in-between two sign posts on Christchurch Road announcing you are in Pokesdown, one at the top of Somerset Road, and one on Pokesdown Green, next to the Bell Inn.
As per the blue history-of-the-church booklet, in the early 1930s it was suggested the church name be changed to "Pokesdown Baptist Church" (this was not supported by the church members, who preferred the name Rosebery Park, but it shows "Pokesdown" was the logical alternative).
The new "normal" for the area is "Proud to be Pokesdown", thanks to the work of the Pokesdown Community Forum.
Image: Front cover of RPBC's 'Good News' magazine for April 2021.
On the church's website -for the pragmatic reason of wanting the church to show up in search engine listings for all of the nearby area- we have chosen to describe the address as: "812-814 Christchurch Road, between Boscombe and Pokesdown, Bournemouth, BH7 6DF". "Between Boscombe and Pokesdown" is really an abbreviated form of "between the Cafe Boscanova end of the pedestrianised shopping area of Boscombe, and the Pokesdown Railway Station".
The copy and paste citation for this page: The History of Rosebery Park Baptist Church and Pokesdown – Pokesdown: the name. Author: Michelle Fogg. Date: April 2021. Url: https://roseberypark.org/history/pokesdown-name/
Return to Home Page
Return to History: Summary
Return to Leadership
Go to History: Page 1
Go to History: Page 2
Rosebery Park Baptist Church, 812-814 Christchurch Road, between Boscombe and Pokesdown, Bournemouth, BH7 6DF