Alison was appointed in 2009 as part-time minister. Alison is married to Rev. Grenville Overton, who was then Regional Minister for the Southern Counties Baptist Association.
She was a very able pastor, and encouraged children's work. Under her, we became involved with Moorlands College, and started to have students from there on placement with us. The first was Seidel Abel Boanerges (see below). At around the same time, we appointed a Children, Youth & Family Worker – Rick Cole, who with his wife Helen, had just finished at Moorlands. Sadly in January 2015 he died from a heart attack, leaving a young widow. He had managed to build up some children's activities, and his death left the church reeling.
These 2010 and onwards articles are available as plain text (and therefore text-to-audio compatible) by following the link given underneath each to their original source.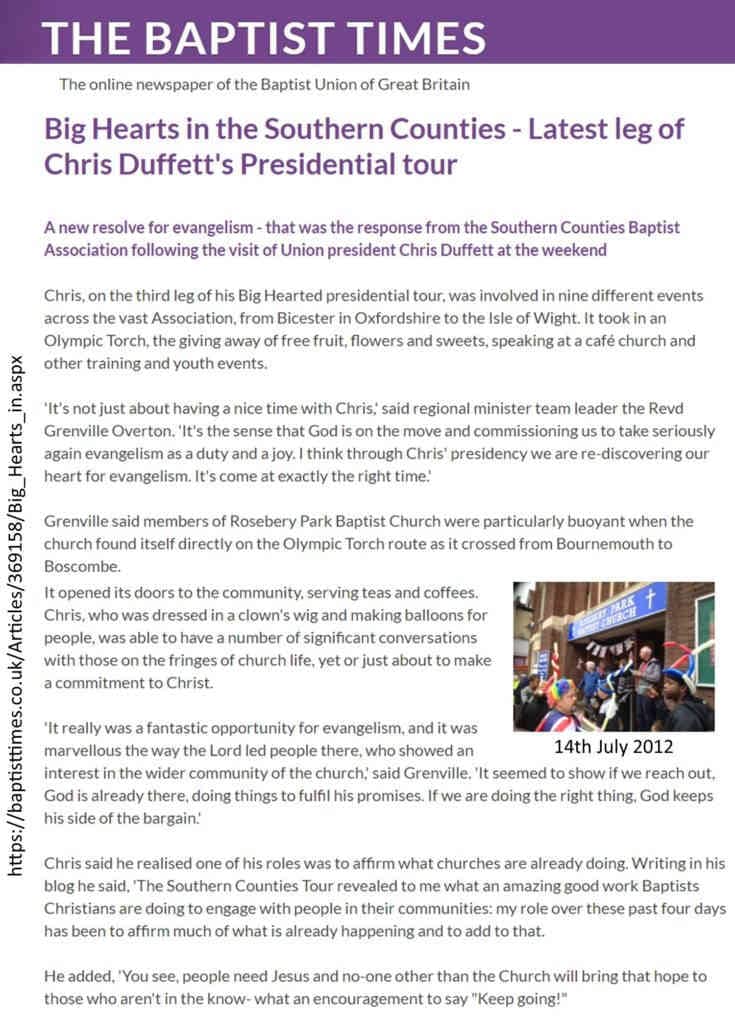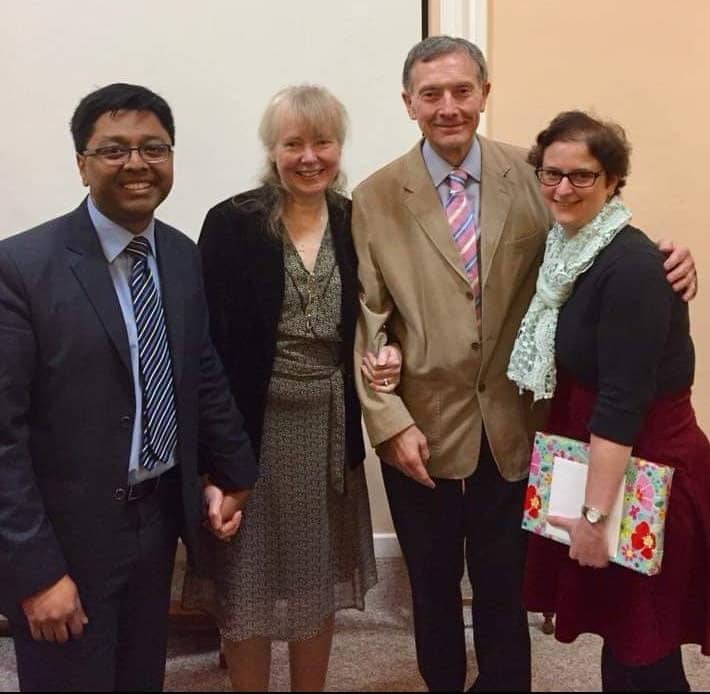 Alison was much involved with Churches Together in Boscombe, and had suggested the local churches start an Open the Book team, taking Bible stories into a local school. She began the group, which continued the work even during the Coronavirus lock-down, via videos and messages.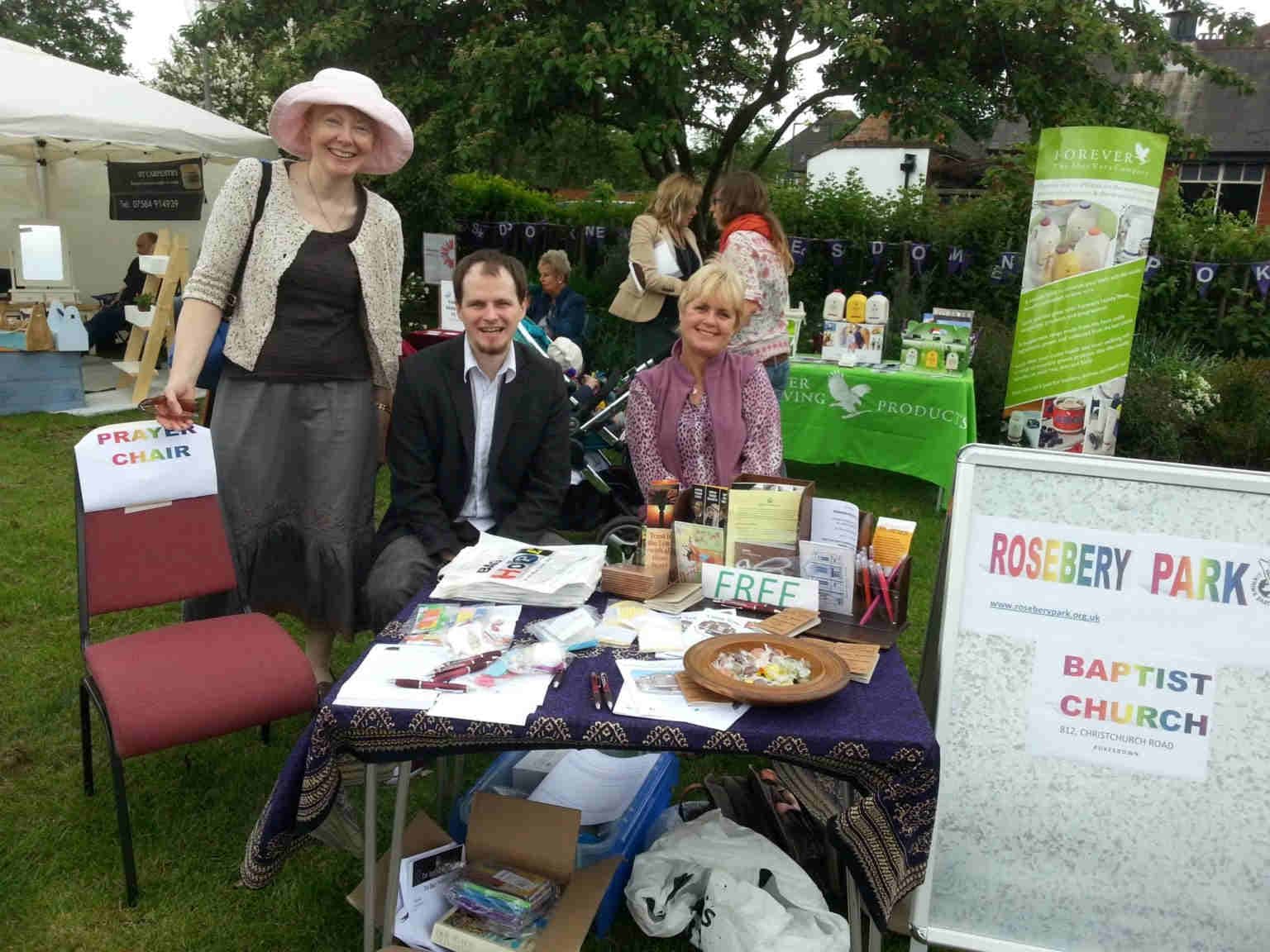 She also introduced Boscombe Angels (Street Pastors), of which she was one to start with, but found she could not do that and all the other activities!117 There were six baptisms, holiday clubs, restarting Brownies, the after school club, activity days, Wednesday coffee morning group, Bible study, outreach coffee mornings, plus, afternoon church. Alison retired in 2017.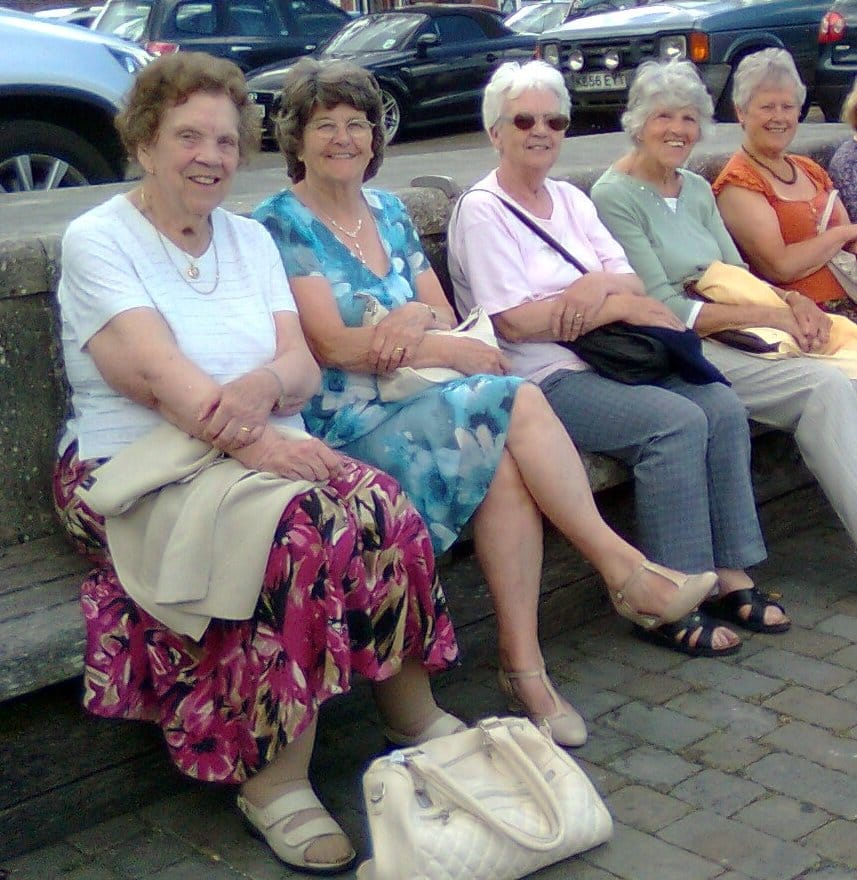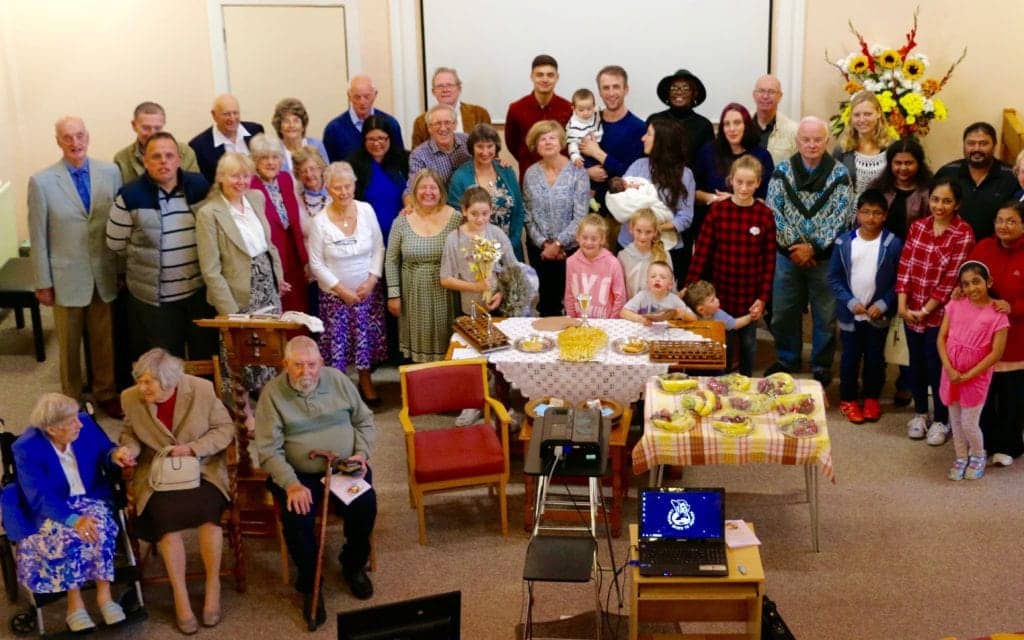 In 2009 the Pokesdown Mural Project was proposed by a local action group based at Scribe Tattooing, and they secured funding from the council to commission urban artist Soap (aka Adam Klodzinski) to design and paint a mural on the long blank wall along Pokesdown Station platform. Work began on this in June 2011. In September that year it won the Community Rail Awards for Community Arts Scheme.117a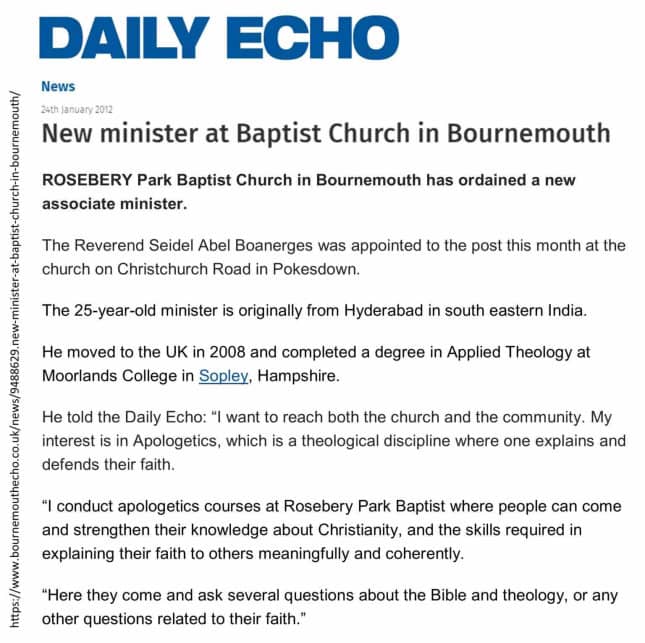 Rev Seidel Abel Boanerges was the Associate Minister at Rosebery Park. This post was created to oversee the evangelism and outreach of the church. He joined the leadership team at Rosebery Park in 2012 and served till end of 2015 before taking on a new role as the Director of Outreach at Capernwray Bible School at Capernwray Hall.118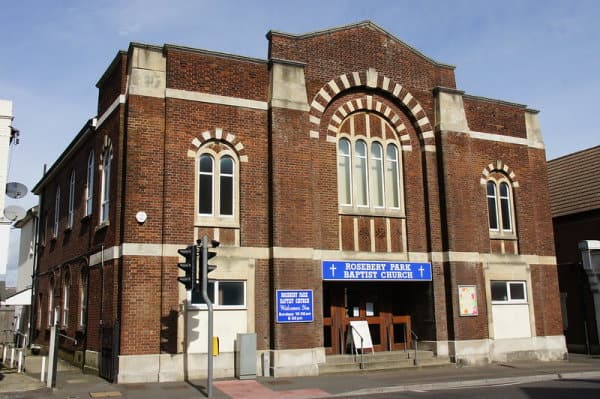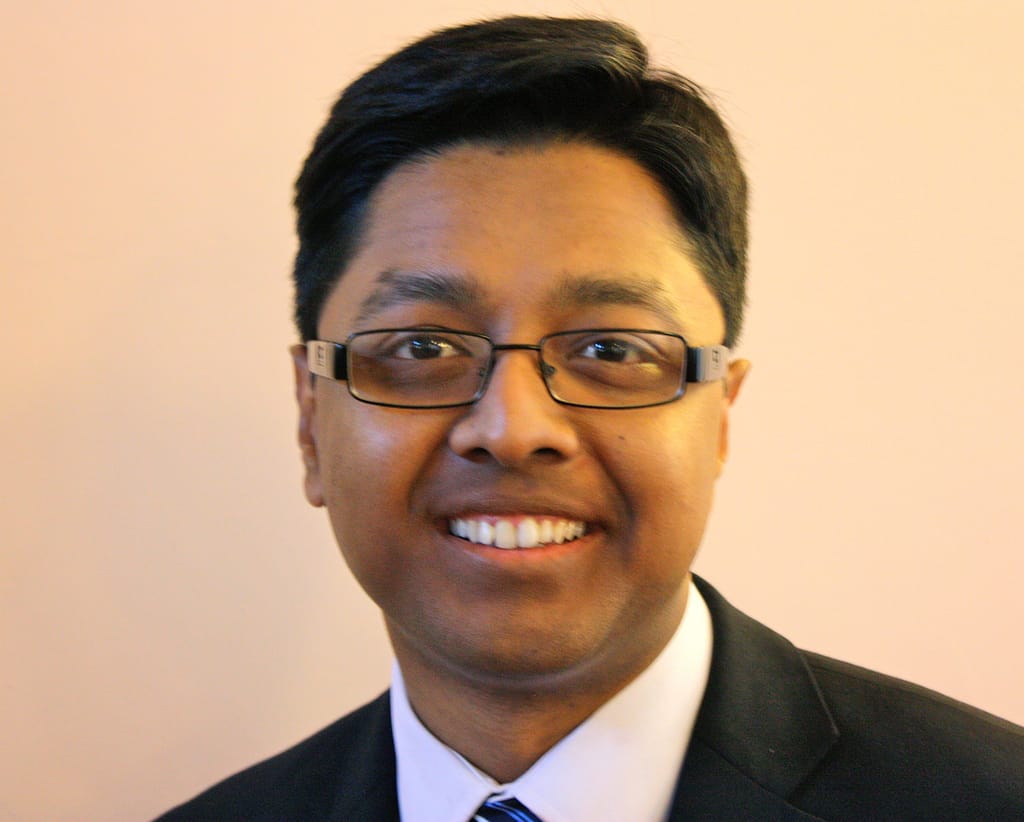 The booklet Rosebery Park Baptist Church: The First Hundred Years, 1891 to 1991, by Robert J. Jeans, includes much more detail on things such as internal changes to the buildings, what roles individuals undertook in the church, the different groups and activities run over the years, what outside causes and missionaries we supported, and the people who oversaw the church (called Moderators) whilst we were in-between Ministers.
Post-1991, during the "interregnum" (Minister-less gap!) between Rev. Philip Parfitt and Rev. Alison Overton, Rev. Adrian Thomas acted as Moderator, and retired minister, Rev. Derek Yates became interim minister and helped produce the new church covenant. He remained until Rev. Alison Overton was appointed. Between Rev. Alison Overton and Rev. Simon Bartlett, the interregnum was moderated by Rev. Ian Coffey of Moorlands College, and we appointed Chris Humphries (also from Moorlands) as interim minister.119
The copy and paste citation for this page:

The History of Rosebery Park Baptist Church and Pokesdown, Page 18 (2009 to 2017). Author: Michelle Fogg. Date: May 2022. Url: https://roseberypark.org/history/2009-to-2017-rosebery-park-and-pokesdown-18/
Go To About Us
Go to Other Activities

Rosebery Park Baptist Church, 812-814 Christchurch Road, between Boscombe and Pokesdown, Bournemouth, BH7 6DF