Under development….
Where did Pokesdown get its name from?
The name 'Pokesdown' for this area is first found in a written record in 1734, but some suggest the origins of the name go back to the 13th century. No one can say for sure why this name was given. Theories include:
• it might be a corruption of 'Peaksdown' – 'Peak' – a high point in the downs ('down' meaning low hills covered in grass);
• it may have been a persons name associated with the down – 'Pocs' Down';
• it could be from 'Pooks Down' where 'pooks' is the local dialect word for the heaps of hay (Coates, 1989, says "the 13th century with a medial '-s-' speaks against this"); from oldhampshiremapped . org
• but the most popular (if unsubstantiated) theory is that Pooks (or Puck's) Down was referring to the fairies or pixies living, playing and dancing merrily on the downs in question!
Did you know there's a 'Pokesdown Song', from 1929, by Cumberland Clark?!
Pokesdown, on the Christchurch Road, has grown a lot of late, With the populace increasing at a very rapid rate. It's a suburb now of Bournemouth, and a pleasant neighbourhood; It is laid out very nicely, and the architecture's good. It once was known as "Puck's Down," in the happy long ago, Suggesting scenes of fairyland, where sweet romances grow; But of gorgeous wooded scenery poor Pokesdown is bereft, And I'm very much afraid there can't be many fairies left.
Yet I call to mind the Pokesdown Wood; in memory I see its grace and charm, which some while back brought happiness to me. I have lingered in its shadows, mid a wealth of trees and flowers, And communing there with Nature, I have passed some happy hours. There were banks of moss and lichen, every kind of luscious growth; There were violets and anemones, a plenitude of both; And the sunshine glinting through the trees and brightening their green, Made a picture for the gods, a splendid transformation scene.
Where the wood was once a glory, there are houses now and streets; And there's nothing much that's sylvan in the scenery one meets. In my leisure moments often, since the site was built upon, I have wondered, rather sadly, where the fairies have all gone. Does it bring the fairies sorrow? Does it do them any good, When the builder's in possession, and they're exiled from their wood? Do they whisper farewells to us when at last they have to go? I have wondered, but I don't suppose that I shall ever know.
Which parts of the area are included in Pokesdown?
When Pokesdown became an Urban District in 1895, the boundaries were defined as running from the sea front to Wollstonecraft Road, and just east of Crabton Close Road, along south of Christchurch Road to Warwick Road, along the railway, which was crossed to take in Clarence Park, and so over part of King's Park to beyond Harewood Avenue. It then re-crossed Christchurch Road and the railway, running alongside the line to Cranleigh Road, after which it turned towards Southbourne Road, between Irving and Watcombe Roads. It then turned into Belle Vue Road and along Clifton Road to the sea front. Thus it included the Shelley, Portman, Stourwood and Stourfield Estates. p3 Pok Past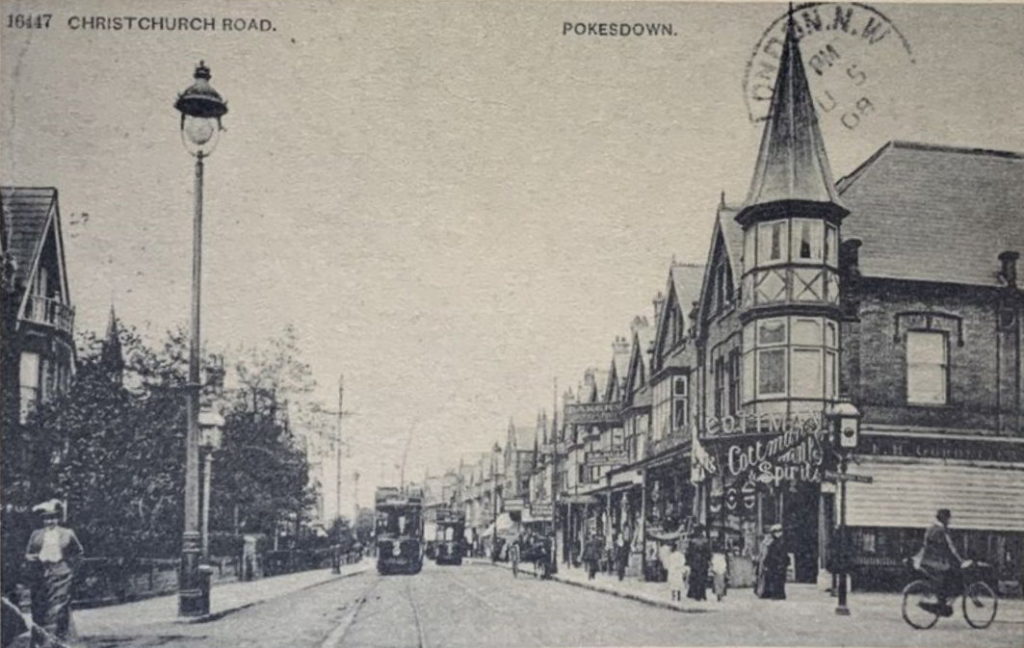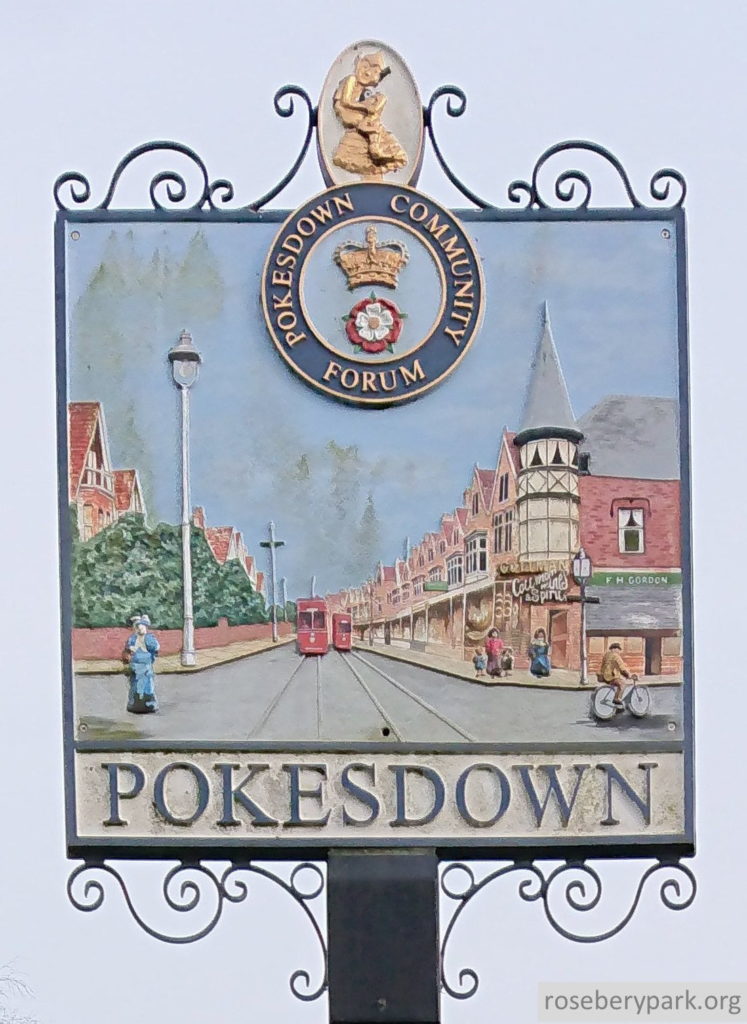 Over time, the boundaries of Pokesdown have blurred. As early as 1916, Mrs Arthur Bell described Pokesdown as "a mere continuation of Boscombe". p202 From Harbour to Harbour.
The boundaries have also retracted, and today's Pokesdown covers a much smaller area than it did in 1895.
For example, Fisherman's Walk was originally part of Pokesdown. Where we now have the Fisherman's Walk Zig Zag to take us down to Fisherman Walk's Beach (Southbourne), that used to be Fisherman's Walk, Pokesdown leading to 'Pokesdown Steps' leading to Pokesdown Beach! We can see in this Palladium Cinema advert that the district address of Fisherman's Walk was already considered to be Southbourne by 1932, so the change happened a long time a go.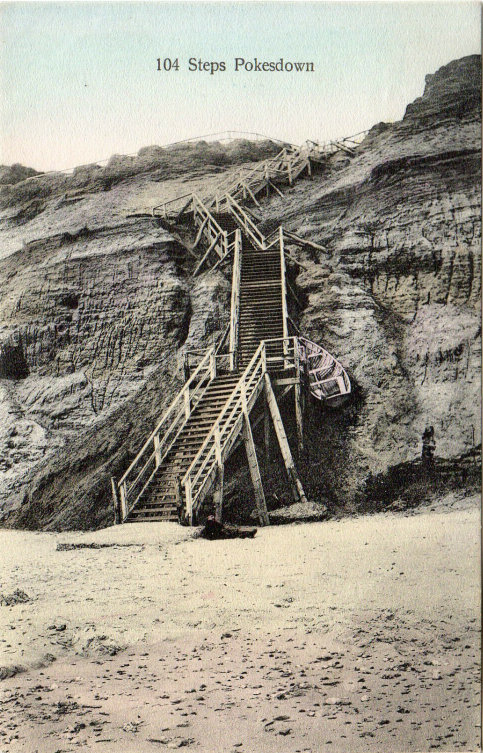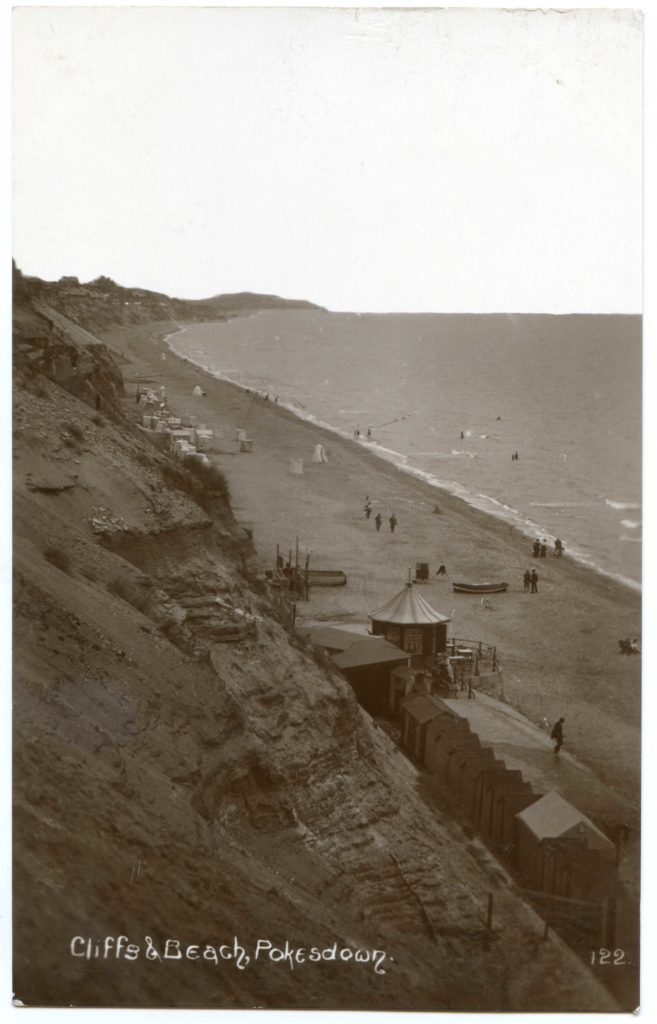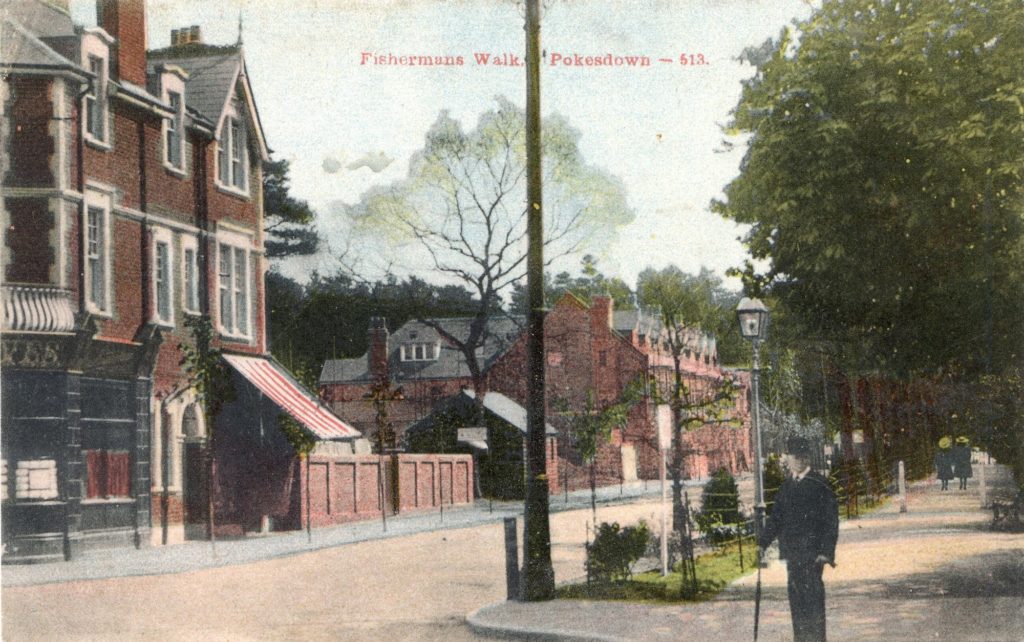 Information taken from from 'Limelight on Pokesdown' written by Tony Crawley for the Christchurch Herald 1st March 1963 edition, and J.A. Young's 'Pokesdown Past 1750 to 1900' as reproduced on http://pokesdown.com/
A debate about the purported lowly reputation of Pokesdown has been going on for over one hundred years! This has led some locals (and estate agents) to claim their properties are in Southbourne, or Boscombe East instead -because they feel that sounds better- and a repeated return to discussions about whether the name should be changed altogether.
Photo J.F. Lovell postcard. Date: c.1907. Source: Alwyn Ladell Flickr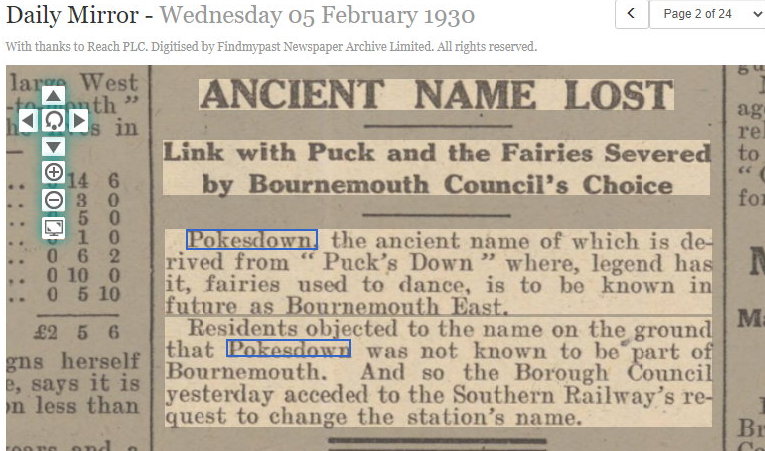 The new Astoria Cinema is CLEARLY in POKESDOWN! The description of the address fits within all the different Pokesdown boundaries venn diagram (see below). But is referred to as being in Boscombe or "Bournemouth East".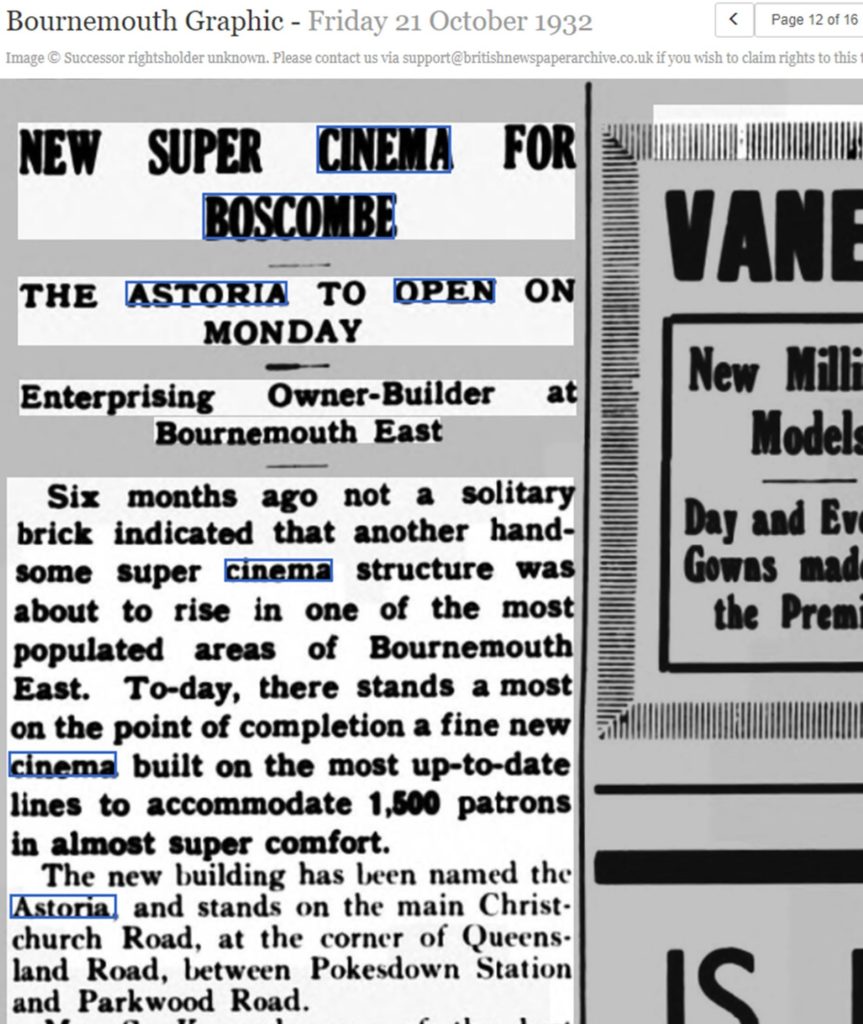 In 2012, Pokesdown South Residents Association won a £22,000 Lottery grant to purchase a 14ft-high welcome sign featuring a picture of village life from around 1900, a plaque showing the history of the area, two new benches, two solar lamps, four oaks, and more shrubs. Pam Ruthvan from the Association explained to the Echo newspaper: "we want to give [Pokesdown] back the identity it's lost over the years." Bmth Echo 1st Feb 2012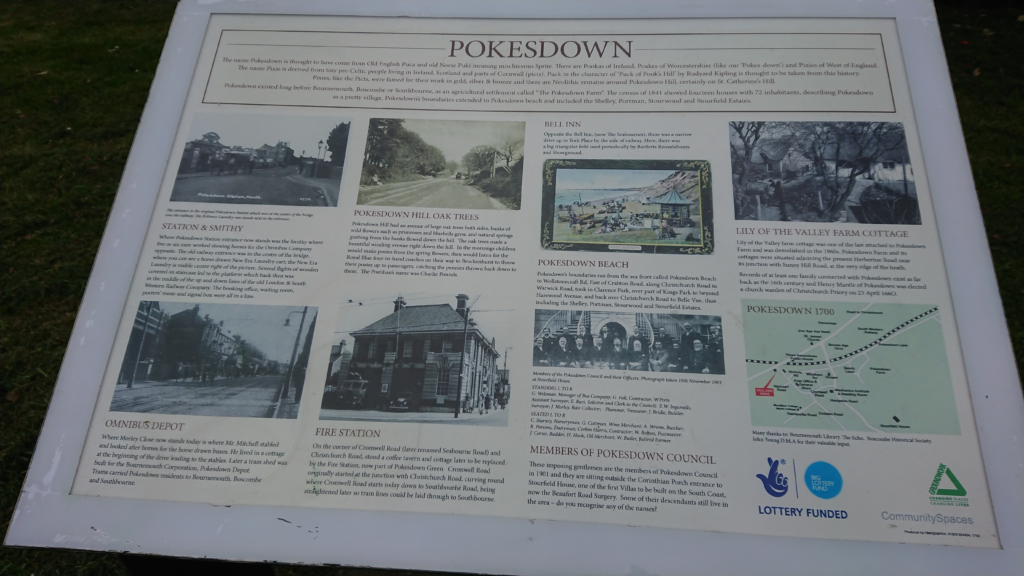 Here is a map showing the approximate 1859 boundary of the new Parish of St James, Pokesdown – based on description by young pg 58 pok – note, it covers a MUCH larger area then we are used to considering as Pokesdown!
This map shows the approximate modern-day boundary for the Parish of St James, Pokesdown. It is over-laid with the approximate boundaries for the 1895 to 1901 Pokesdown Urban District, the 2018 Boscombe East & Pokesdown Ward, and the area locals today might consider to be the suburb or district of Pokesdown. And this is why it's difficult to say where Pokesdown begins and ends!
You can view the individual boundary maps over on this page, for those who are REALLY keen!
What's the district address for Rosebery Park Baptist Church?
Arguments in favour of Boscombe East: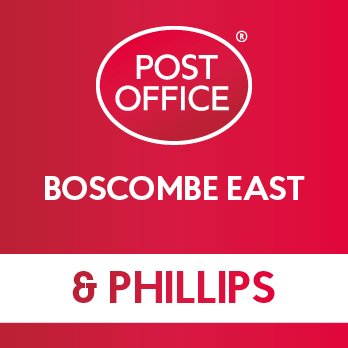 Rosebery Park Baptist Church is in the electoral ward previously called 'Boscombe East', so there is that justification for it having had this address in recent history.
The Post Office at 836 Christchurch Road is called 'Boscombe East Post Office'. (We are at 812-814 Christchurch Road).
On the front of the church's Good News magazine it said Boscombe East for many decades.
The local newspaper, The Echo, reported recent road works which were in front of the church as "Christchurch Road, Boscombe East (towards Pokesdown end)"
Image: Boscombe East Post Office Sign. They are at 836 Christchurch Road, just past the junction with Warwick Road.
Source Boscombe East Post Office Twitter.
Arguments in favour of Pokesdown:
The electoral ward, since October 2018 is now called "Boscombe East AND Pokesdown".
Some people regard Boscombe East as the area past Pokesdown Station, down 'Pokesdown Hill', where the next set of shops are, eg. 'Boscombe East News Food and Wine Premier store' at 1115 Christchurch Road.
Rosebery Park Baptist Church is in-between two sign posts on Christchurch Road announcing you are in Pokesdown, one at the top of Somerset Road, and one on Pokesdown Green, next to the Bell Inn.
As per the blue history-of-the-church booklet, in the early 1930s it was suggested the church name be changed to "Pokesdown Baptist Church" (but this was not supported by the church attendees, who preferred the name Rosebery Park!).
The church belongs to or is connected with/advertised on Pokesdown Community Forum.
On the church's website -for the pragmatic reason of wanting the church to show up in search engine listings for all of the nearby area- we have chosen to describe the address as: "812-814 Christchurch Road, between Boscombe and Pokesdown, Bournemouth, BH7 6DF". "Between Boscombe and Pokesdown" is really an abbreviated form of "between the Cafe Boscanova end of the pedestrianised shopping area of Boscombe, and the Pokesdown Railway Station".
Return to Home Page
Return to History: Summary
Return to Leadership
Go to History: The Full Story, Page 1
Go to History: The Full Story, Page 2
Rosebery Park Baptist Church, 812-814 Christchurch Road, between Boscombe and Pokesdown, Bournemouth, BH7 6DF