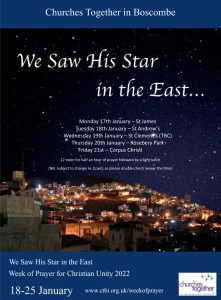 Churches Together in Boscombe will be holding prayer meetings at 12 noon for half an hour followed by a light lunch, Mon 17th to Fri 21st January 2022.
Monday 17th January – St James
Tuesday 18th January – St Andrew's
Wednesday 19th January – St Clement's (TBC)
Thursday 20th January – Rosebery Park
Friday 21st – Corpus Christi
These meetings are 'subject to change' re. Covid, so please check back nearer the time for confirmation. Thank you!
You can read more about this year's theme at: https://ctbi.org.uk/week-of-prayer-for-christian-unity-2022/